Happy 2016! I've posted the first release of the year to Happy Print Club – my online printable stationery club. The new design is called Floral Fantasy with a combo of deep, rich colors accented by light and happy pastels.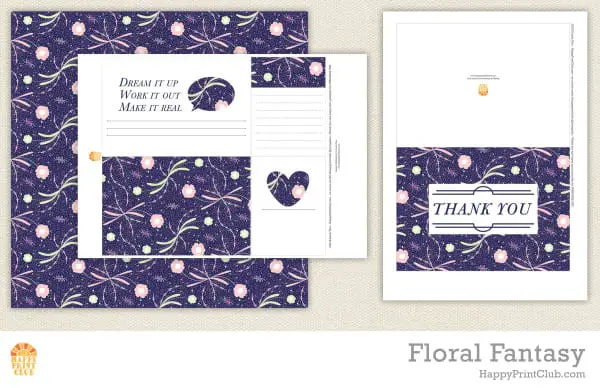 The repeating pattern came out of my experimentations in reading Jeanetta Gonzales' post about #patternplay on The Jungalow. I have some knowledge of technical repeats, but I really enjoyed the history and visual inspiration she shared regarding designer William Morris. It's fun to learn about different pattern styles and not just learn the technical logistics of creating a surface pattern design.
My end result is not really in the style of that time period, not to mention I ran into a lot of issues with my computer crashing from all the little dots I was creating. I had to use Photoshop in the end which was a challenge for me, since I only use that program to edit photos. I'm much more comfortable designing in Illustrator! It was a good experience though and I'm really happy with the end result.
This year I'm adding more to Happy Print Club releases, so you might have noticed there is a greeting card design, coordinating journaling cards and the design as a full 12×12 patterned paper. It's like a mini paper crafting kit to play with and I'm excited to see what you will create.
Look forward to weekly releases every Friday – yippee! Now head on over to Happy Print Club to check out the details on Floral Fantasy!