Here's a clean and simple, free family printable decor piece to brighten up your living space and make it even more cozy and full of love.
Nothing like holidays and family get togethers to make you realize just how important it is to have your loved ones around you.
Not only that, despite tantrums and attitudes, we have to remember to practice gratitude for all the things we have.
So today I wanted to share this free family printable with you. Beautiful lettering of the word family, makes a lovely modern wall art printable to add to your home.
It's clean and direct, matches all decor styles and gives you that in-your-face reminder that family is priority, family is beautiful, family is love.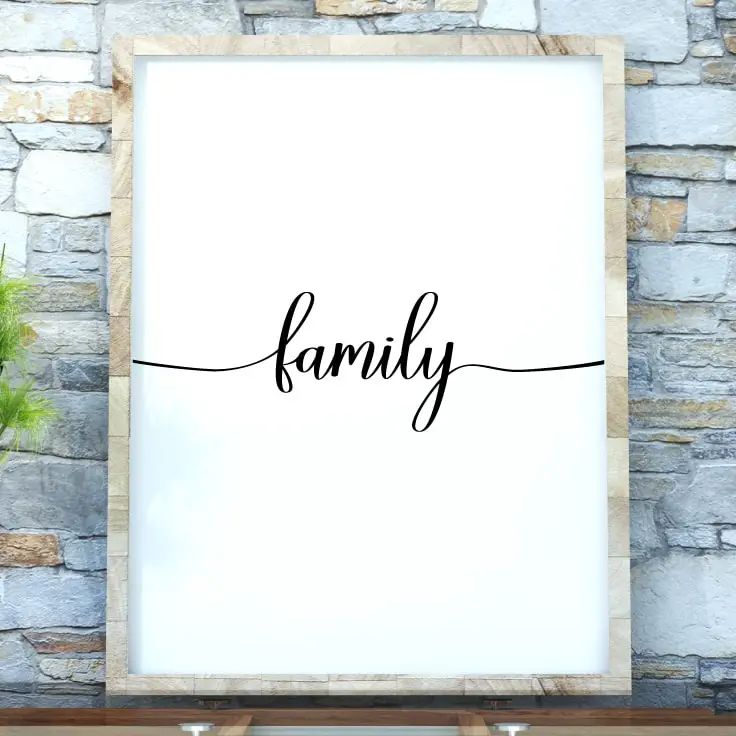 This design is in a 4×5 ratio, but large at 300dpi to print up to 1 meter in height. Yup, I like to go BIG! Download for your personal use below and I hope this free printable helps to make your home a bit more cozy and beautiful.
One gallery wall idea is to match this printable with a whole bunch of family photos around it. Imagine how amazing it would be to capture all those beautiful memories onto a wall in your house.
It will forever be a reminder of all the love there is in your family and there's nothing like a wonderful wall of love to brighten up your home.
Enjoy this free printable! You can find me on Instagram as @tortagialla  and my Facebook art page is here.
Looking For More FREE Printables?
You might also like these printable posts:
Also be sure to check out all the free downloads on this blog and never miss out new posts – sign-up for my email newsletter to get all the regular updates >>
Want to see more modern gallery wall art printables to bring life to the walls of your home? Check out my Etsy shop here >>