Every so often, a bit of freelance work turns out to be the seed to an amazing tree of possibility.
A few months back, I was contacted by Tanja from Osswald Design to create an illustration for one of her crochet patterns. Actually, I already mentioned on the blog here – so it's actually been a long time! She was curious to see if a different kind of pattern image might attract more customers, not to mention she just wanted to give me work as a lovely friend of mine! *so loved*
I really enjoyed working with Tanja as she had great ideas and gave me constructive feedback. Her thought was to create an illustration character that would be wearing her finished crochet piece. I was excited to work on the art commission and create something different, but still my style. Now that I think about it, this type of artwork is actually quite trendy right now – a mix of illustration with real world photography/imagery. I'm so happy to have been paid to create this!
Here's a snippet of the final image created, one of my classic digital drawings of a girl wearing Tanja's beautiful crocheted shawl design called Snow Falling on Shadows (pattern on Ravelry).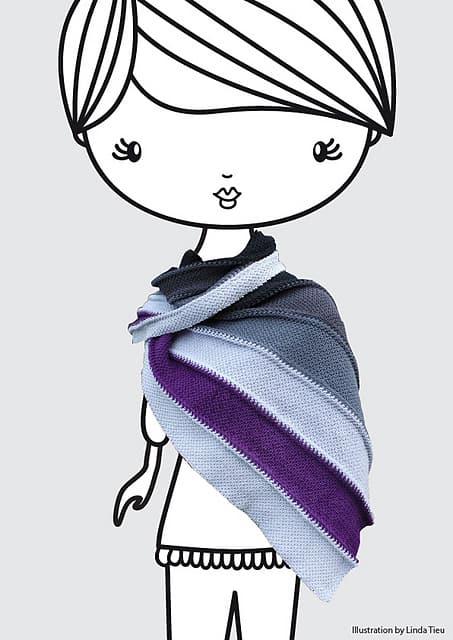 After completing the illustration, I thought it was just a done job – much like other freelance work. However, Tanja said she was using the image for her pattern, but I could use the creation for my own art shop and products as well. She gave me permission to do so and after period of testing and hesitation on my part… I've finally got products in my Etsy shop, including this lovely illustration!
My little crocheted shawl lady is on a greeting card and pocket notebook. I've also included credit to Tanja and a link to her shawl pattern on the back of the prints as shown.
I'm so happy that a commission actually turned into a collaboration of sorts for me. I really love the black and white illustration and how it really makes the shawl pop out of the image. Now I am thinking it would be so cool to do more illustrations in this particular style. That is, using photography with black and white illustration. Perhaps a whole product line will come out of this? What do you think?!
If you would like to hear more of my artistic thoughts, I elaborated in an update on my Patreon post here.