Looking for some cute free printable lined stationery templates? How about this cow angel illustration I created? Use this printable for your next letter!
I've been playing around with digital art and created this wonky cow angel illustration. Decidedly funny, but still cute, right?
It's all part of a Thing-A-Day challenge… to basically get creative and do something each and every day. There certainly aren't any punishments if you don't do it or miss a day, but it's more of a collective effort to be creative in general… not to mention there are many others participating as well – general accountability, right?!
So I'm still a beginner at illustrating, but created this cow angel and decided to make it a printable stationery page.
Free Printable Lined Stationery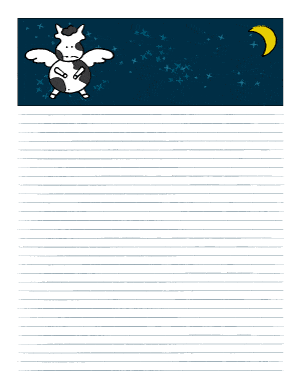 Download the Cow Angel Illustration Stationery Page PDF (931 kb)
I've realized how amazing it is to create something digitally and be able to share it across the globe. You can download my design and print it yourself… instant letter writing paper! I'm definitely a fan of free printable lined stationery!
Enjoy the PDF I've posted and print it for letterwriting or note taking. Nothing like a cute design on your papers to make everything more enjoyable!
If you like my design printables be sure to sign up for my email newsletter for more freebies and the latest updates, right in your email inbox.