Last week, I wrote about my doubts in offering digital downloads of my artwork and the dilemma of wanting to get my work out into the world, but still retain ownership and rights. Although I do not know if there is a huge market for digital downloads of artwork, people seemed to like the general idea – even though they shared my concern for piracy. Offering the print quality source file for sale, brings up immediate concern of attracting copycats and scammers in this world. Some might even say that it goes against the "fine art print" aspect of Art.
The topic of infringement in the art world has been discussed and blogged about so many times. Every now and again, a shocking infringement case will surface and our little world is rattled up with fury. I certainly cannot make sense of how people can blatantly copy and not feel and know in their bones that it is wrong.
But then again, there's a whole lot of people in this world driven to do bad things. There are many reasons, albeit not justifications… but it doesn't change the fact that there will always be risk involved, in all facets of life. We fear so many things, but we can't let that fear control us and bind us down. We can listen to that fear, but then… we figure out what we will actually do.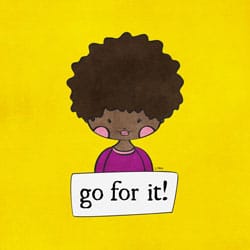 After much thought and consideration, I've decided to offer my Girls With A Message series for sale as digital downloads. (Note: no longer available online)
We live in an everchanging landscape and I want to embrace the technology that we have available to us. This will be my little experiment and I certainly have my reasons for taking a chance. I know there are those who don't even consider digital art as a true art form. However, it's always a question of time and education for people to accept new ways. Instead of concentrating on all my fears and worries, I want to look forward to all the pros in this situation.
Digital downloads = instant gratification
Reach anyone in the world with an Internet connection
Unlimited quantity to spread, so everyone can enjoy my work
No shipping fees for you the customer
No packing materials for me to fuss with (I live in Italy and 99% of my supporters live out of this country)
With the source file, you can always renew your prints – just print it again!
Variety of applications since one could print on paper, cloth, transfer paper…
Or even use digitally as your desktop, screensaver, phone wallpaper…
Easy to change the size in proportion with digital files, print at 100% size or a mini copy to use as notecards
I certainly don't want to encourage piracy, because the digital copy is for personal use only. I'm doing my part in officially copyrighting and registering my work, but I know the risk is there. I think the digital format makes it easier for people to mis-use the work. But that isn't going to stop the rise of the digital revolution. Ebooks are everywhere and so convenient – taking over the publishing the world.
The funny thing is that I'm already offering my work digitally. I design digital scrapbooking products at CatScrap and have my own digital stamp shop. Why the hesitation for art prints? I have to admit, there must have been some kind of haughty, snobby, worth-more thought in my mind… and I realized that it's silly. It's all my work and I put the same passion into my efforts, no matter what the end result becomes. I'm already out there in the digital world, why not go full force?
And in a way, I would love for my girl illustrations to spread like wildfire. It's funny how the messaging is urging me take the leap as well. Ultimately, the whole point is to spread all the positive and motivational messaging. I hope that people who support me, would simply direct interested parties to buy their own copy of the download. It's really the same situation for any kind of product that can be scanned and ripped off. The risk is not stopping people from releasing their work and becoming successful. I figure the best way to combat the fear, is to work on getting my girls out there and known. There will be no question that I'm the illustrator and ultimately, to be recognized for one's work… that is a great feeling of success. I believe true fans will come back to the source. I also believe that if I put my good intentions out there, it can't be a bad thing. Good things will come out of it.
I'm going to let go of fear and shoot for stars… please wish me luck.
Update: Currently you can find products in my Zazzle shop!
Also, here are some articles around the topic of copycats and copyright for artists:
Pikaland – Copycat Lessons We Can Learn
Fine Art Views – Don't Fear The Copycats
Kate Harper Blog – Fear of Getting Your Art Stolen? Look at the Numbers
Protecting Your Art: Interview with Alyson B. Stanfield
EmptyEasel – Copyright Information for Artists: How Copyright Laws Protect Your Art
Tara Reed – How copyright infringement is like stealing my sandwich…