After all the deep thoughts from last week's post…now you should be ready to dive into the details of starting up your creative business. Again, you don't need to have everything figured out to move forward. Facing certain thoughts and getting things down on paper simply helps you to move forward into action. We will be bringing in those thoughts as we go through the nitty gritty details and make some important decisions to set up the scene. Although every aspect can seem like such a pivotal and huge decision, you must overcome the fear and take action. We cannot predict the future, so make the best possible decision you can NOW and move on! Don't get stuck and don't wait for xyz before starting.
SET ASIDE TIME & SPACE
Many of us have day jobs and will be working on launching our creative careers on the side…or you might have many other responsibilities to worry about at the same time. So it's important to clearly define time for this creative business effort and give it your full attention. I know some people who dabble here and there when they have time. Honestly, that's a hobby, not a career. So take a good look at your lifestyle and schedule in the time that you will be working on this. Maybe you'll wake up earlier on the weekends instead of sleeping in. Or instead of watching television, you are going to schedule that time for this effort on a weekly basis. You'll be surprised how much time you really have, it's all about trade-offs and what is more important to you. I'm personally spending as much time as possible on this effort. When I'm not working on my paid projects, I'll be thinking and working on this – because it's THAT important. I'm also super excited and pumped up…so it's not like I'm distracted or thinking about other stuff anyway! However, I know for some, blocking off time will be necessary to get the distractions away. If you don't give your creative business a honest effort, you can't expect it to go anywhere, right?
In addition to setting aside time, it helps to have a dedicated space as well. Maybe you can clear off some desk space and make it your official creative business work area. That way there's a dedicated space to remind you of this effort, where you can organize and keep the momentum going. I've cleared off a little desk space and started up a binder to hold all my materials. As things move along, maybe I'll upgrade a bit…but for now that's a great start. This also leads to the topic of recordkeeping. It's important to be organized from the start – it's easier seriously! Keep your official papers in that binder, file in receipts, accounting papers, everything related into one place. I know some folks use online software for accounting as well. Whatever works for you, but keep it as organized as possible. I also keep digital records, but also print them out regularly to slip into my binder. My accounting is super old fashioned, because I use an Excel sheet I personally created…but it works for me because everything is organized as I need it to do my taxes yearly. For every transaction or work related expense, I enter it in immediately and file away both digitally and on paper. It's all together and even if  the receipts might not be totally in order, at least they are in the same envelope if I need to reference later. It's always a benefit to be organized and to keep all your official paperwork at hand.
WRITE YOUR MISSION VISION STATEMENT
I could have said business plan, but that sort of scares people away. I'm coming from the approach of launching my design and illustration career as an independent artist, so I don't need a formal business plan that will be presented to potential investors for example. I'm assuming you are in a similar situation. Either way though, you need to have a plan. Let's think in laymens terms. When people say business plan, they simply want to know what you do and where you are headed. Your business needs to have a direction and goals, otherwise what's driving it all? This is where your thoughts from last week will come in. Ultimately, you are creating a mission vision statement. Okay, I know that a mission statement and a vision statement are technically two different things. I like to combine them, to encompass the two ideas of what you currently do – products, services, etc… and what you are working towards for the future – the ultimate big picture vision. Take note that this is not your CV or biography of past efforts. It's like your directive…simple and to the point! The mission is specific – what you do, whereas the vision is the bigger picture.
I do not claim to understand it all and I'm not a writer – from my blog posts you can tell that I get wordy! So this is a challenging process for me as well…but I do find it helpful to get something down in writing and use that as my guide for my business decisions moving forward. It helps to think about talking to a friend, trying to tell them what you do. A bit of editing also helps! Remember that whatever you decide on – it's not set in stone and it might change with the times. It's simply a jumping off point so you can move forward.
To use my passion and skill in design and illustration to create a profitable business that brings joy, empowers and inspires us all to live happily. Artistry for blissful living. My mission is pretty specific in terms of starting a business with my art and being profitable is important to me personally, especially in this point in life. It clearly says I design and illustrate. However, the driving force is about bringing joy, empowerment and inspiration – my motivations. Which leads to my vision – short and simple, because ultimately it's about creating for a happy joyful life. I like it. Perhaps not perfect and perhaps not written so elegantly, but it directs me and that's where I am right now. Woohoo! Statement done. Now it's your turn – write it up and stick it on your bulletin board!
WRITE OUT MORE ACTIONABLE DETAILS
Now you have a directive. Sweet! To continue the "business plan" get into a few more specifics since you are putting it down on paper already. I know it seems like boring stuff to do, but just write out exactly what you do or what products or services you are offering. List them out plainly and clearly. For those who offer services, you might go into details about pricing and rates. All those details are good to have figured out and done with before approaching clients. Of course, they might change them over time but you need something to start with. Another good exercise is to write out who your ideal customer is. Whenever you come up with new products or services you'll know exactly if it jives for your ideal customer. Again, it's all about helping you focus and move towards your ultimate goals. If you have the reason why your particular products or services are super unique and cool…write that down as well. It's your unique selling point and helps to direct your marketing. The why is the essential point when it comes to marketing yourself…because I think that is what people care about. There are millions of people who probably do exactly what you do and are maybe even better skilled or more experienced than you. The why will differentiate you and make you stand apart from others. There's a great TED talk by Simon Sinek that really illustrates the point – check that out for some inspiration.
I think of myself as creating for blissful living and truly living it. I took the plunge and went from a "normal" life I hated to a different "normal life" that I love! I like to declare that I live in the beautiful Tuscan hills of Italy, eating delicious pasta and drinking wine – not to make people jealous – but to inspire blissful living! I live it out and then design it to bring joy, empower and inspire. That's why you might like my work. We all want to be happy and live well…and why not?!
I know many of you have all of these thoughts and statements in your mind and perhaps you are thinking it's all too visionary and loose. Well, it's all necessary as we move into the details. With direction, now I can write out my actionable steps to outline the operations and ongoing promotion of my business. Perhaps it's best explained by example. My day to day operations is to live blissfully so that I can create my collections of artwork that exemplify the feeling – to be licensed in the end. I have listed out 10 themes I would like to work on, with about 10-20 pieces in each theme. It's a concrete way to direct my day-to-day work. As I take on that task, I will also be able to define the timing…how many collections I will create in a certain amount of time. At this point, I'm not yet sure on my speed or if it's something that can be set on a timeline – yet. On the marketing end I have decided on specific actions to get myself out there.
Submit my work to potential manufacturing clients (1-2 weekly)
Introduce myself to one related online blogger or magazine for promotion weekly
Print postcards yearly to send to mailing list
Offer monthly free printables to build my mailing list
Blog progress and share through social media outlets (Twitter, Facebook page, Flickr)
Just to note, these are ideas and they will vary depending on your business type. It could include handing out flyers or specific advertising. Write them all out first then edit later…sometimes it takes a while to refine your plans and a business plan is always evolving anyway, so don't worry that anything is set in stone.
Finally, you should also write out some specific goals, so that you can measure if you are successful or not. What are the measurable results you are expecting? For example, I could say get 2-3 license contracts in my first year. It could be something like sell a certain amount in a specific amount of time. It has to be specific so you can tell if you've accomplished the goal or not. Goals can also be about bettering your skills, not just results like profit. I could say take a class and improve my watercoloring skills to create a watercolor collection of art. Or perhaps learn a certain video program to create an animated reel by the end of the year to put on YouTube. Write out those goals and actionable items!
YOUR BUSINESS NAME
For many this is already done and for others, it might require a bit of thought. What is your business name? This will drive your website, promotional materials and other documents and presentations. Many artists simply go with their name. Or sometimes name with an added word, like John Smith Designs or John Smith & Co. This option is probably the simplest and easiest. For me personally, I've delved into different names…trying to be clever and cute. This blog is named after my Italian nickname, but I've already run into trouble with people not knowing how to pronounce it and already being inconsistent in spelling it as one word or two words. Since I create many different types of work in different mediums, the common thread is ultimately me. So I've decided to go with my name to keep it simple, although my last name isn't the easiest to pronounce either! Got to go with what you have though. When deciding on a name just make sure it doesn't end up being a bad word if two words are stuck together or that it's something unpronounceable by the common audience. Some people abbreviate part of their name to make it simpler as well. Do a little brainstorming, look at it in different angles and make the decision.
I think it's fine to name your blog or social media contacts something else, especially if you already have them setup and don't want to convert. In other cases, certain names might be taken and you just have to go with whatever is available. Once decided upon, this is the name you will use for official business papers, payment, logos, contracts, marketing materials, etc. I do recommend going and signing up on everything you might be interested in using once you've got your business name. It's like claiming your spot, even if you aren't going to touch it for a while. Twitter, Facebook, Flickr, WordPress, Youtube, Blogspot, Typepad – whatever you might use! Better to have it and never use it in my opinion! It's always disappointing when you think you have the perfect name, then realize everything is already taken by your doppelgänger!
On the topic of a business name, once you have it decided make sure to do the research and claim the name for yourself officially. Some folks go into registering or trademarking, getting the business license, registering the business name, etc. The rules and regulations depend on where you live. Do you need permits to do business or do you want to set up a corporation or go at it as a sole proprietor? I like the idea of starting a business officially, because then you can keep it separate from your life. Especially if you are married and have many different things going on, it helps to set it up as a separate entity. However, I don't have much experience in all that so do your research and get it sorted out. I do believe that getting some advice from a laywer or accountant will be well worth it.
Personally, I have decided to go ahead as an independent, sole proprietor because I already have freelance work and other small things going on in that capacity. It's already challenging getting taxes done as a US citizen living in Italy – so I just don't want to delve into it right now. Suffice to say that you should do some research for starting a business where you live and decide what you need to do to get official.
YOUR LOGO
Now that you have your name a logo should be developed. You'll be using it for your promotional materials and online presence, so it's good idea to get it done as soon as you have your name decided. I thought it would be simplest to go with my name written out in a font that I like, pretty straightforward. Some people go with their signature or somehow incorporate their artwork into a logo as well. As you look at the variety of logos and brands out there, I'm sure you'll realize that it could take a long time to come up with a logo. You can certainly hire a designer to do it for you as well. Since I'm a designer, I'm doing it for myself. I don't want to include artwork in it, because my work is so varied. Again, I'm focusing more on me as a brand…so I started playing with my favorite colors…
You might already have something in existence or a clear idea in your mind of what you want. Or you might have wanted something simple, but then as you got into it started going off into a million tangents. I started designing and creating variations and just played around for hours. Okay, it's an important step…but I don't want to get hung up on it. I can always change it if one day it's suddenly horrible to me… remember, nothing set in stone. Just make the best possible decision you can at the moment. If you do not have design skills, I do recommend getting a professional to help because it is representative of you and your business. You don't want to present something that is low quality in terms of the basics of graphic presentation. I had to stop myself from tinkering endlessly and now I'm taking a look at my final variations. Perhaps variations can be used for different purposes or perhaps I might go with one. I'm also looking at it in black and white to make sure it looks good on faxes 🙂
The idea is to keep it simple, but whimsical and cute in a style to reflect my work. The tagline "design & illustration" does not have to be included, but I like it there to be clear I'm not an interior designer or such. It's sort of like a label or brand image…I like it. I'm going to look at it printed out large and small…then choose one to go with. My logo is pretty much done now. Check.
MARKETING MATERIALS
Now that you have your name and logo, get some business cards. I know many people think it's an old fashioned way to leave your contact information. Well, I don't care if it's old fashioned, it's effective. I think people like to get your card especially if you are a creative business…because chances are you'll have a creative business card design! Again, get professional help if you need it…or keep it super simple. The tools we have today make it easy to print a bunch of business cards by simply uploading an image and typing in your info. It can be that simple. Perhaps your work will speak for itself? Also, the cost makes it so that you can also re-order if anything needs to change. Order in small quantities. In fact, many creatives revamp their business card from time to time or rotate imagery by the season. I've ordered from Vistaprint before and find it really easy and affordable. If you sign up for their newsletter, you'll often get coupon codes and deals as well. You can also do a quick search online and I'm sure you'll find many different printers to go with that are affordable, with decent quality for your purposes.
Once you have business cards, you can finally spread the word and get your business into people's minds and hands. While you are at it, feel free to print postcards or other marketing materials to hand out and share. It's up to you what you want to spend or what makes sense with your business specifically. Folks who sell items usually like to print something to include in orders like bookmarks or notecards. I know that in this technological age, some people feel that the business card is defunct. But I think there's something special and irreplaceable about having that tactile card in hand.
WEB PRESENCE
I've already mentioned the idea of claiming your name once you have it decided upon and it's important to do this for your web presence as well. Do you already own your domain name? I have lindatieu.com and you can see it's just a splash page I've had for a while. It's best to be able to get your exact business name for all aspects of your business, domain name, blogname, twitter account, etc. However, I understand that it is not always possible. Sometimes names are taken or there might be limits on the length of the name. Again, just take a look at your options and go with something. I would stay away from using hyphens or weird spellings though…better to be clear and direct. Consider adding a descriptive word after your business name if you are looking for variations, like design, studio or artist. Also, I would recommend going with the .com version and if you want, buying all the variations as well. I'm not so into doing that when I already have the .com. If you have a really long name, sometimes owning the full version, but also the abbreviation that is easier to promote. All your domain names can be pointing to the same website, so you can own as many variations as you want.
I purchase all my domain names through namecheap. Never had problems with them, so stayed a customer for many years now. However, if you just need one domain it might be easier to simply purchase it together where you will be buying your hosting. I had issues with my old hosting company and just switched to Bluehost this year. I love the immediate access and control I have to start developing my sites and so far the service has been great. Of course, there are a million hosting companies out there to choose from. I do recommend going with a larger company more than anything else though… there are a lot of startups that are low quality and one day just disappear!
We will get into the details of building up your website and blog soon, but for now just claim your spot. I realize that not everyone will want to delve into coding their own website or even hiring professionals to do it. Even though setting up a WordPress site is super easy these days…it just might not be something you are into. For artists there are many other options that will be completely valid as your portfolio website. Just get your domain name, then you can direct it to a paid portfolio website where you choose a theme and just upload your images and info. I haven't used any of them personally, but a quick search online will give you an abundant amount of options. There's this blog post with a huge list of options…again, pick your path and go with it.
YOUR PORTFOLIO WORK
Finally, my last step this week is to gather all my artwork together for organization. For visual artists, you might already have a body of work ready to be uploaded into your portfolio. In my case, work is scattered in many different places, digital files here and there and in other cases no digital files at all. I know that to create collections and themes of work, I will be working from scratch as well as off some of the work I already have. Studio time is of the utmost importance – you cannot stop creating! It's bizarre to have to write about it, but it's really important. If you don't have your product, your service, your work – what are you going to show to people? If you are moving from hobby to professional, it is important to think about creating new work as well. There's always a difference, because you are approaching it with a different perspective.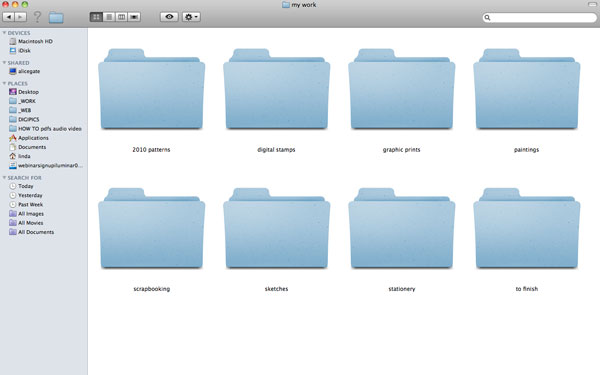 So I'm taking some time to gather all my work into one place, making high-resolutions scans and organizing into one folder. Now, I can take a look at everything and evaluate. How will I present my work – are there common themes or bodies of work in existence? What is suitable to show off, what do I need to work on? If you are just starting out, you might not have a whole lot to show but it should not stop you from the process of building up your business. Just know that part of your plan is to create work to rotate in… we all have to start somewhere! I certainly find myself in a situation where I will be working constantly, because my previous work is very random and one off. Next time around we will delve more into the studio time and work aspect of your creative business. I'm coming at it as a visual artist…but hopefully this can be applied to your situation as well. Perhaps polishing your product or service offerings? Even creating work to show off a new service option or new style that you want to get into.
TAKE ACTION
Okay, I know this is a lot to take in. It's really just a few steps, but I am explaining my process at the same time, sharing my examples in hopes that it will help others. Not to mention creating a record for myself and holding myself accountable for progress. I know that many folks get stuck just coming up with a name. Or maybe you just can't settle on that vision statement. Don't let yourself fall into that trap. There is no perfection and you must realize it's all going to evolve over time. So just do the best that you can – do it – then move on. I was getting a bit stuck on certain parts, but I had to push through and just get it done this week. I'm so glad to have come to this point and I know you will be too…so get to it! I'll be back soon to share my next steps in this creative business adventure 🙂 Ciao ciao!