Happy Thursday to everyone! Besides the rain-on, rain-off weather we've been having lately, things are pretty lovely here in the Tuscan hills. I'm happy to hear the birds chirping, see the wildflowers popping up and feel the warmth of the sun getting stronger by the day. Although I was thoroughly annoyed taking photos today, given the sun kept disappearing – or I guess it's the clouds blocking the way – I had a productive studio day and feeling completely satisfied and happy. Yay!
I'm also looking forward to the summertime because I signed up for a class with Claudine Hellmuth. Super exciting! Thank goodness for online classes, because I live in the boonies and wouldn't have exposure to workshops otherwise. You should check it out at Big Picture Scrapbooking and also visit Claudine's website to learn more about her. I love Claudine's illustration style and collage work, so super happy to join her for the summer 🙂 I'm certain it'll be fun times crafting along with her and other folks in the class.
To update on my creative workspace, let me share a bunch of photos…things I've been working on…mainly bookbinding! I had to clean up my desk a bit first, or at least shove stuff around because it was full of random bits and bobs. I also got snail mail today and my copy of Somerset Studio finally arrived. I was a bit sad that the corner had water damage from it's long voyage – darn the rain! But of course I'm anxious to dig into the magazine tonight when I snuggle up in bed. I also got my prize from winning the Italy on Sunday challenge and I must say this is the fastest mail shipment I've ever received. Probably helps that they are in Italy as well, instead of mail from across the ocean! Grazie grazie! I got a lovely handmade notebook and a booklet of rub ons. Will be playing with those for sure!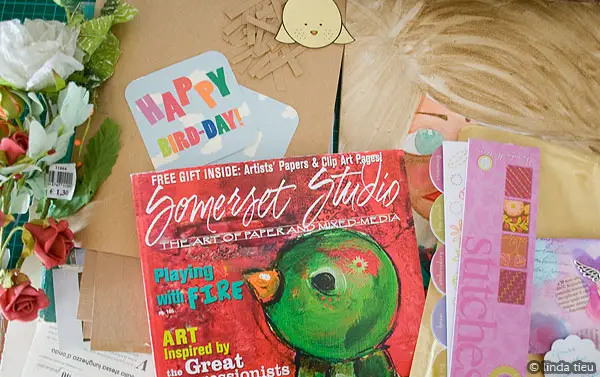 This week I made a journal as a gift for friend…which led to making another one because I was on a roll and had all the materials lying around already.
So this afternoon, I just decided to continue with the bookmaking momentum and created three more with more signatures and thicker paper. I decided on three to experiment with binding techniques. I certainly don't need these journals, but it's just fun to make them. Also because I have leather lying around and this is how I use it up sans sewing machine. The first brown journal has the signatures tied into the cover, easy peasy! I'm not sure if there's an official name for this kind of binding because it's kindergarten simple.
I have to say thank goodness for bone folders, because otherwise I wouldn't be able to fold all the paper without wearing myself out! This first simple journal has a classic look, with the linen string showing in the binding. I should probably say thank goodness for my awl as well to pre-punch all the holes. Even though I'm starting to wonder if I should get a drill for the purpose, will be better for my hand I'm sure!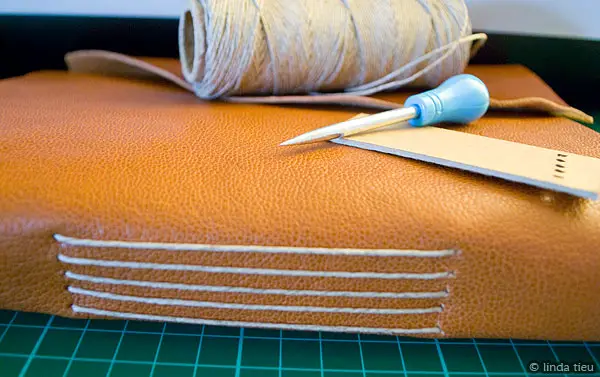 The second journal I made has a slightly lighter-weight leather, so I decided to sew all the signatures in, while wrapping around the cover spine. It gives it a more decorative look and makes the journal very flexible. I followed along Karin's bookbinding tutorial – thanks! I should note this is where an injury must be noted…poked my poor finger with the giant tapestry needle – ouch!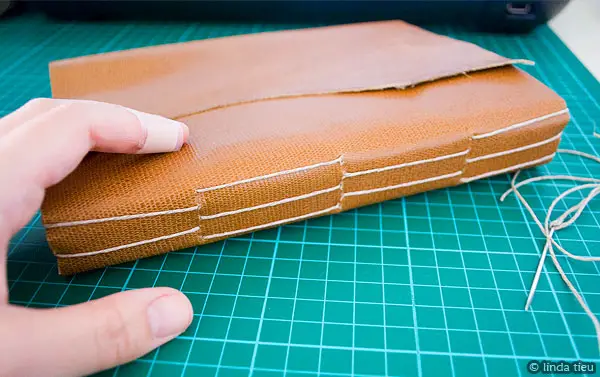 For the third one, I wanted to follow Teesha Moore's directions on how to make a journal because it has such a pretty binding with the option of beads and dangly things! However, I had to go back and fold more paper to make 6 total signatures and redo my little hole punching template. As you can see, I confused myself several times…eek!
This last journal took a lot more effort, not because it's hard to understand the method, but just tougher to work with the super thick leather I had and also adding the beading while making sure the string was tight got tricky. In the end, I was super happy to finish the binding and admire my handmade effort! I will have to add embellishments to all three journals to finish up as well as think about the closure…but I'm satisfied. It's great how creating something just makes you feel good at the end of the day.
Thanks for checking out my creative space today and following along my random ramblings.