Sometimes I just have to laugh at myself, rather than assuming the worse like perhaps – I've gone mad! For example, today I decided to make a practice journal out of leftover watercolor paper. I have a lot of leather lying around, so cut a little cover and sewed it together. Until I realized midway that I was sewing a different black leather journal. Yeah…talk about zoning out. This is what happens when you have too much stuff on your desk, right? Somehow, I got my covers and papers mixed up and starting making a different journal…ehhh! The one I started working on – or thought I was working on actually got shoved into my leather stash pile. Jeepers…I just laughed at myself. Oh well, extra journal to add to my Etsy store! Sometimes I get into the zone and it's a bit zombie-like for me… *tee*hee*
So the one I made for myself is a bit larger, but stitched the same exact way – just one signature of paper and wraparound leather closure. I already watercolored on one page, but planning to do colored pencil and acrylic practice in here instead. I don't like the paper for watercoloring, so will use it for something else!
In another corner of my desk, I also have these cut-out journaling tags and shapes (you can download in my last post). I will be adding more embellishment to them…but not sure what yet…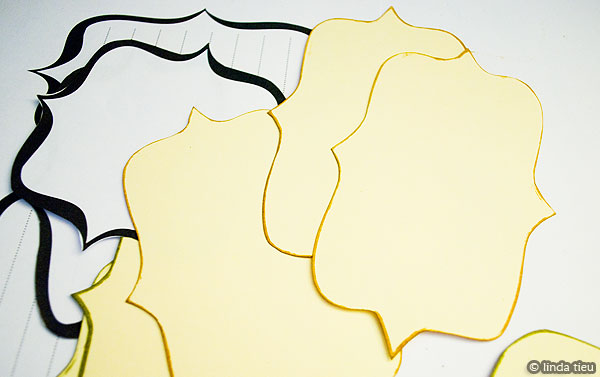 Another little craft I've been doing is paper collage with my niece. I decided to go with Claudine Hellmuth's style of using the b/w people heads and putting them in cute situations by collaging and illustrating. This one is of me and my husband – together. Yeah, I'm mushy like that and often end up with lovey dovey hearts here and there. That's my kind of art! 🙂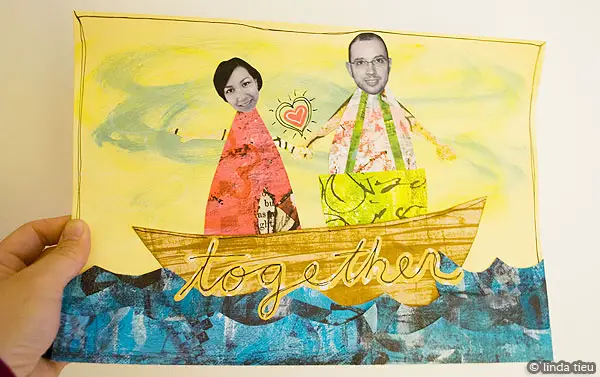 Still lots to finish today as I decided to break up my days into smaller blocks and chip off a little of many different ongoing projects. I've been finding this method more productive, going along with my ADD nature. Sort of like doing daily bird illustrations, I also do the daily bit of clean-up, scrapbooking a page, crafting, art and of course the necessities like work! It might only be 10 minutes or so for one little step, but suddenly a week has past and I've got something done. It's a great feeling! This method of working also put me into the mode of writing "finished" lists instead of to-do lists. It's nice to note all the things I've accomplished and see it at the end of the day…you might want to try it!