If you haven't already checked it out, please visit my "Let's Make A Journal" post where I go through my tutorial of how to make a journal and why I make them. Suffice to say, my creative workspace is full of papers, leather and bits and bobs from bookmaking. I would really appreciate your thoughts and feel free to ask questions about bookmaking as well. No surprise that I woke up today with the urge to make another journal. I immediately started working the grungy envelopes you saw at the end of yesterday's post.
You might notice that this journal looks done, but it's actually not sewn together yet! I'm still playing with the pages and how to stitch it together, but decided to prepare the rest of it. I really love the use of braided ribbons for the wraparound closure. I was tinkering a bit with snap closures, but have no idea how to use them…you know the extra buttons you get with clothing but never use? The ribbon gives it a softer look that I like though.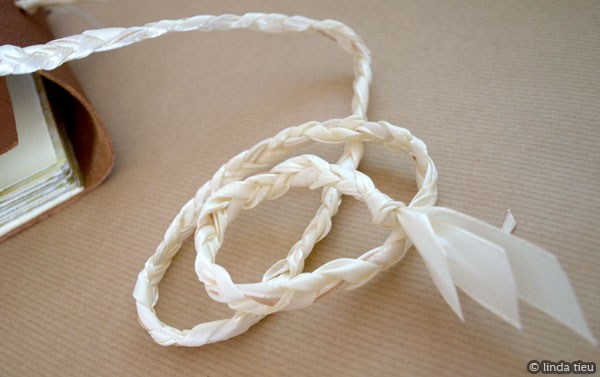 Anyway, the inspiration for this journal came from the idea of a mini travel notebook where you could write into, but also have a spot to collect stuff. The envelopes will allow you to keep little bits and pieces of your journey. Ticket stubs, pretty leaves, who knows! I'm making this as a gift and really excited to get it done and sent off.
Besides making journals left and right, I've also been doing my daily sketching and posting on Flickr. It's really nice to have the routine, no matter how small it might be. Lots of little steps still get you moving forward, I say! Today I have a lot of digital work to be completed, so off I go into digital computer designer land. Until tomorrow my lovely readers. BTW, have I told you how much I appreciate your time in visiting and commenting on my blog? Grazie! I feel like such a lucky girl! 🙂