Created this cute food wallpaper about my love of rice balls, because I so miss asian cuisine! Download this free kawaii design for your computer here!
Living in Italy means  authentic and delicious Italian cuisine.  However, it can be difficult to find variety when living in a small town.  I was so used to being able to find any type of cuisine at a moment's notice in Los Angeles.  Where we live now it's like the search for the holy grail if you want something different.  There are places, but not all are authentic or quality.
Thankfully, my husband is very eager to hunt around and try out ethnic food restaurants with me.  During our August vacation, we visited an hour or two North of our region and found a wonderful Indian restaurant in Carrara.  It was heaven…real Indian cuisine!  I realized how much I missed rice in general.  Thoughts of Japanese rice balls wrapped with seaweed or stuffed in tofu pockets came to mind.  I started to imagine giant pots of Indian or Thai curry mixed with beautiful white rice.  Yum*drool* oh, I miss you rice!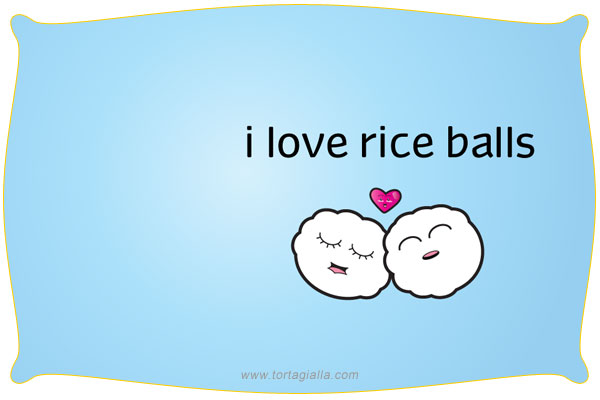 These thoughts inspired me to make a new desktop wallpaper (download digital PNG file for digital and printable PERSONAL USE ONLY)
It's all about my love for rice balls.  I went kawaii style, because I love Japanese anime and manga… plus it was top of mind after reading the first issue of Parasol Craft Magazine.
What can be better than rice love?  Now I can drool about it every time I look at my desktop… two loving riceballs, ready to be eaten – haha! I hope you enjoy this free wallpaper download!
If you like my design printables be sure to sign up for my weekly newsletter for more freebies and the latest updates!