Looking for some cute printable stickers? Download this free printable sheet of designs to use as embellishments and decoration!
No matter what type of papercrafting I'm doing, I always like to add a bit of cuteness to the mix. So stickers are always a go-to item – super easy to add to a project. Then why not print you own designs at home, right? You can download these cute printable stickers to DIY at home!
I put together these cute designs when I sponsored a Sketch Saturday challenge. Now that it is over, I wanted to share the designs with everyone as a free printable. All you have to do is download the free file to your computer and print on your preferred material. It can be sticker paper or just regular paper that you will cut and glue on projects. It's easy enough, so you don't need a fancy machine or fancy sticker paper.
Will you decorate your planner, use them in your scrapbooking, journaling or something else fun and DIY? The sky is the limit, so go wild with your creativity.
I hope you will have fun creating and experimenting with my printable designs. Enjoy!
Download the Printable Stickers PDF here: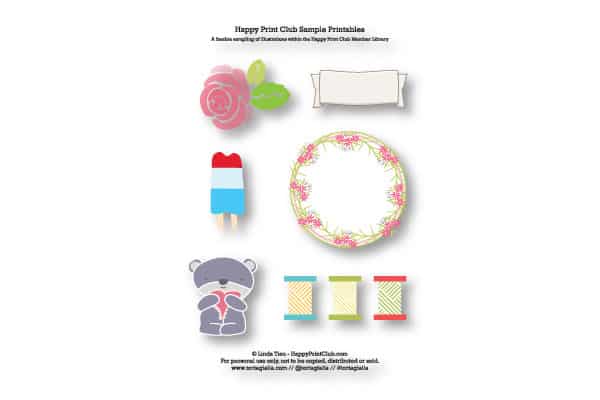 Download Cute Printable Stickers – Happy Print Club Sample Printables2 PDF
Want More FREE Printables?
Be sure to check out the archives of this blog for all the free printables available. If you liked this digital printable you might also enjoy these posts: