I mentioned yesterday that I wanted to save more complicated bookbinding for an art journal because I prefer to use something that opens out flat – easier to paint and draw on as well as leave to dry.  I learned that coptic stitch binding creates that effect and is supposedly pretty easy to do as well.  To keep my art journaling goals more approachable from an almost daily perspective, I decided to create a smaller journal size.
I should also mention that I've never learned bookbinding from a teacher, because complicated means more than stapling a booklet!  A friend of mine took a bookbinding class, so I've been exposed to some of the techniques and tips.  I watched this Coptic Stitch binding tutorial on Youtube and was able to follow along and complete my fat, but smaller sized art journal that lays out flat very nicely!
I actually created the cover back in 2003 from some Italian patterned paper I bought in Florence glued over some hardboard – just recycled the bottom board of an used notepad.  I tend to make little pieces of projects and they sit around for occasions like this.  I cut, folded and punched some heavy ivory paper, enough for a year of journaling and sewed it all together with my metal-twine.  It was actually pretty weird, because the metal in the twine causing a lot of unnecessary twisting and you can see some parts of the metal sticking out already as the twine part wears down.  I made some mistakes and tightened the covers too much, but it's holding together nicely regardless.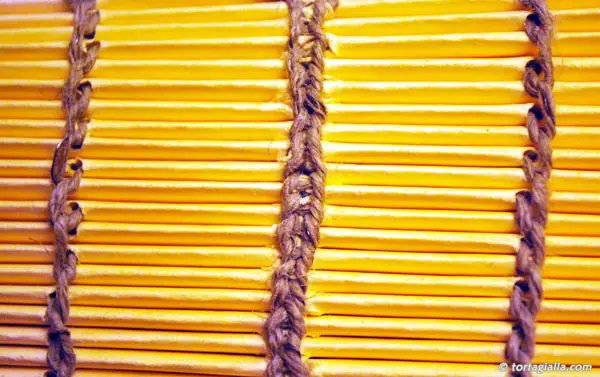 I think it's pretty cute for a homemade journal and I encourage everyone to make a small and approachable-sized journal.  I got the idea back during Art Every Day Month in 2009, where Jennifer Lee from Life Unfolds blogged about her tiny art journal that made it convenient for quick and daily spurts of creativity.  Fabulous idea, grazie!