Wednesday is hump day as we used to call it back in my old workplace.  Half the week is nearly done, but still another half to go.  I like to break up the workweek with something other than the things I MUST do.  It's fun for me to break up my time with something casual that I can share with you all.  A little something to get you over the hump day!  Hence, I declare it to be free goodies Wednesday!
Christmas is a time of many lists to check off, especially for gift shopping.  I have to admit that I'm a huge list maker, in general anyway.  I just LOVE crossing out and checking off items that are complete.  It gives me great satisfaction and I think it's good to pat yourself on the back sometimes and realize how much you've accomplished.  That is why I also break up tasks into the smallest parts possible – more to cross off, right?  It's really a great feeling and breaking tasks into small bits makes it all the easier to accomplish as well.  A little project management trick, I say.  I am currently working on some mini sketchbooks, handbound with leather covers and I've written out every tiny step to make it pretty mindless, especially since I have to make duplicates.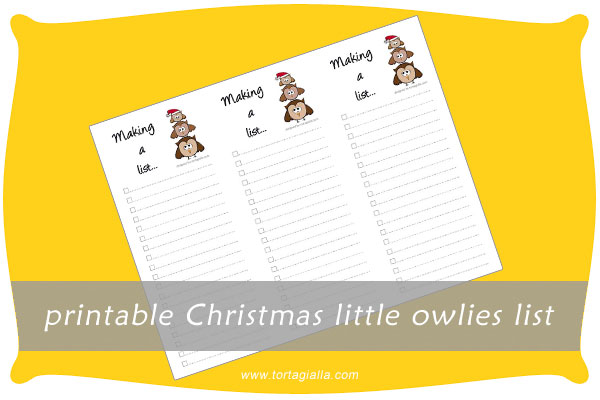 Download the Printable Christmas List PDF
Thus, I've created the little owlies Christmas list for your holiday task listing!  The little owlies are sort of my mascots as I created them way back, when I first started blogging and sharing my designs.  Write down all your to do's and get it off your mind.  Break it all up into small steps and then cross 'em out when completed.  Feels good, doesn't it?
If you like my design printables be sure to sign up for my weekly newsletter for more freebies and the latest updates!