Here's a free love wallpaper design that is motivational, inspirational and super pro-love, because love is out there, always.
After watching the Google year in search video, it brought tears to my eyes. I really think they did a good job in summarizing the general feeling that many of us may have these days. Lots of turmoil and uncertainty in general… but I love that they started to move towards showing all the good things and ended on a positive note. Love is out there. The song Light the Sky by Grace VanderWaal is beautiful as well.
I decided to create a simple and direct "love is out there" design in response to the whole presentation and my feelings at the comment. This design makes a wonderful wallpaper for your computer, laptop and devices. Just click on the image below and downlaod the full size 1920×1080 version. I hope my design will help to inspires you and remind you that love is out there. Keep hope and love in your heart, always.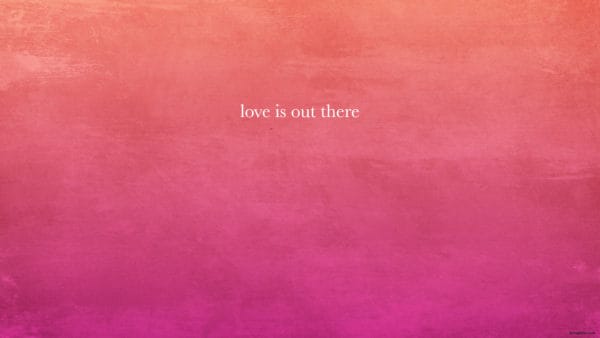 I love being able to share my design and I think it's important for all of us to have reminders of love, goodness and hope – all around us. Enjoy and please share with anyone who need a little pick me up. Love to you all.
Want More FREE Printables?
If you love printable designs and downloads, you might also like these posts:
Also be sure to check out all the freebies on this blog and don't miss new freebie posts – sign-up for my email newsletter to get all the regular updates >>