Download this Free Printable Snowman Stationery Set to use for your gift wrapping and holiday stationery needs.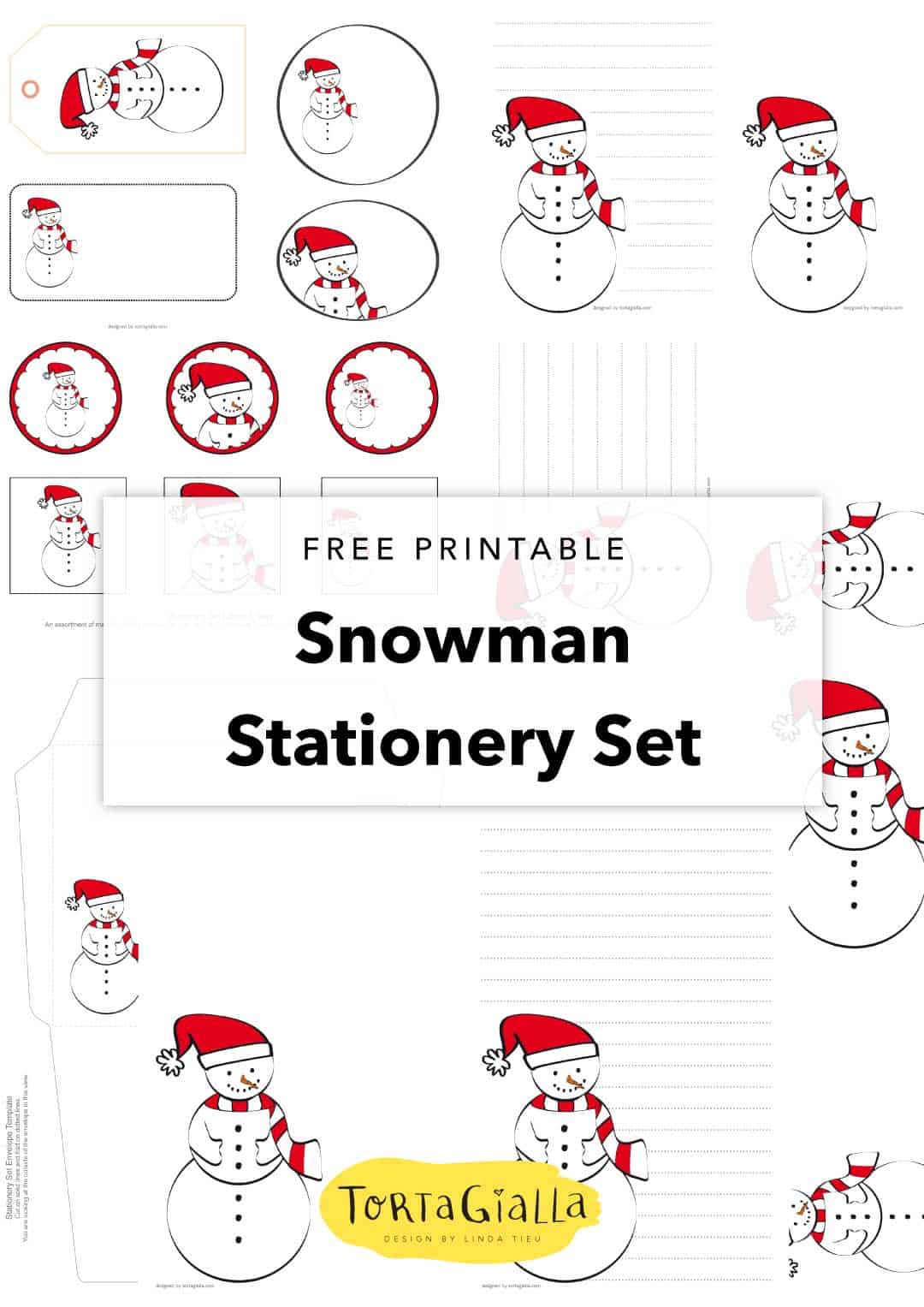 It's been a fabulous month in terms of experimenting and furthering my hopes, dreams and goals of being an artist full-time. I've experimented with new mediums and also met so many fantastic folks online throughArt Every Day Month.
I appreciate ALL feedback and visits to this blog and know that it really means a lot. Besides experimentations, I have also been trying to work on my design illustrations.  One of my many goals is to open up an Etsy shop to sell my wares – art prints – stationery – creations of all types.  Since I have so many interests, it's definitely hard to define exactly what I do, but I know it all starts with sketching out designs.
Printables make me excited because they can be delivered immediately and give you instant results. You can print what you want to use and as many as you need. Also from my business point of view, it's a low upfront cost alternative for someone just starting out a business. A bit like print on demand, which is vastly becoming an common way of offering up products for sale.
I have offered some freebie printables previously on this blog and through this experience, some research and my own use of the many wonderful free printables out there, I've come to a few conclusions.
I tend to print out designs that don't use up too much ink, because I prefer to print on textured or colored paper as an alternative.
I love sets of printables, so that I can match up everything such as wrapping a gift, labeling and writing up my card or note.
I like the simplicity of just cutting paper in half or quarters and don't like wasting any part of the paper printed.
I totally understand the need for designers label or credit via logo and text, but hope it's tastefully implemented and not using up too much ink.
I also like printables that are customizable – you can type in some text in Adobe PDF before printing.
I haven't yet figured out number 5, but I worked on a sample snowman stationery set with the other items in mind and would like to offer it as a FREE download today. I hope you enjoy these designs I have created!
Download this Free Printable Snowman Stationery Set
Snowman Stationery Flat Notecards
Snowman Stationery Folded Cards
Snowman Stationery Labels/Tags
Each part of the stationery set is labelled above for download, so you can pick and choose what you prefer.
I'm definitely still learning when it comes to variations of designs and how to format the layout. For example, I provide a lot of variation on each sheet, lined and blanked versions.  Perhaps it is better to provide full sheets of one style only, in case a person prefers one over the other, rather than both on the same page that must be printed together?  What about all pages in one file, do you often select print even though you didn't mean to print out the whole file?  Or are separate files too unwieldy?  What about the fact that I include "designed by tortagialla.com" on everything as a small text rather than my very yellow and ink-soaking logo?
All my designs besides the envelope are designed to be cut in half or quarters exactly, no waste of paper.  It's important of course to remember to print as high quality as possible on your preferred paper and at full 100% size, as these are designed for Lettered Sized paper.  Although for myself I design on A4 sized paper and would offer those variations for all printables – I love my US and Int'l peeps equally!  I've wondered also about the quality of files as these are saved as high quality PDFs specifically for printing at home – pretty big downloads.  Or would smaller sized downloads with less quality be acceptable? All things to consider and think about!
Want More FREE Printables?
Be sure to check out the archives of this blog for all the free printables available. If you liked this digital printable please sign up for my weekly newsletter for more freebies and the latest updates.