Looking for free printable Valentine signs to use in your papercrafting projects? Here are a set of printable traffic signs made with love!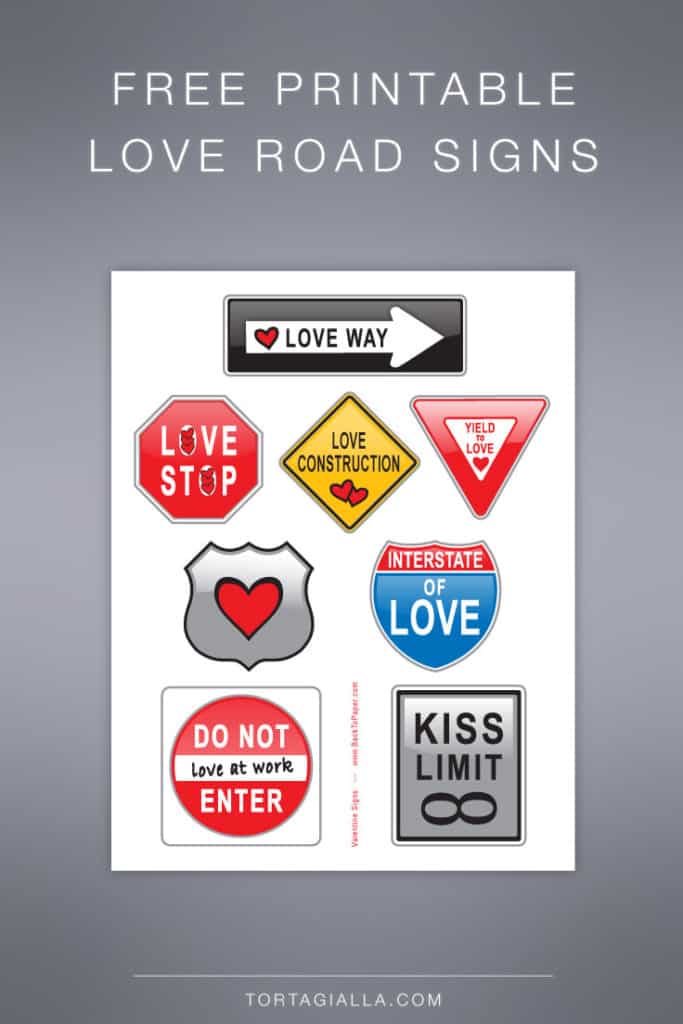 I've always loved hearts and all things lovey dovey, even if Valentine's Day might be a very consumer driven holiday.  Nevertheless, I decided to create these love themed traffic signs and they make a great printable for papercrafting.
The original Valentine tradition, if you had to boil it down, was to exchange written greetings as a symbol of your love for each other.  So why not make your own  genuine love letter from the heart… with this free printable?
Free Printable Valentine Signs
Download valentine love road signs PDF
I hope my free printable valentine sign designs will inspire you to create something special for your special loved one.  I first designed the "love stop" sign, thinking it would be a cute sign to put up in the house. But once I got going, I created many more variations, turning the traditional traffic signs into love signs!
Maybe you could use these printables to create an obstacle course of love (so to speak) for when a loved one returns home after a long day? Or make up a game with your kids for Valentine's Day!
Use your own imagination and the sky is the limit. I'm definitely making some cards and journaling with these free printables.
I hope you enjoy this Valentine's Day (whether with a significant other or your family and friends) – have fun with it!
Want More FREE Printables?
Love printable designs and downloads? You might also like these printable posts:
Also be sure to check out all the freebies on this blog and don't miss new freebie posts – sign-up for my email newsletter to get all the regular updates >>