Looking for some inspiration and motivation for your walls? Download this set of free printable wall art quotes to decorate and inspire at the same time!
My design inspiration…
I'm always looking to follow inspiring people and Amy Landino is someone I have followed on Youtube via her channel AmyTV.
She's an expert in vlogging, but really shares all kinds of tips and tricks around lifestyle, living well and productivity.
She has this signature line in her videos to say good morning, good life and I was so inspired one day, I had to create a set of prints with that sentiment!
Design details…
I actually created a set of prints and expanded the thought a bit, so there are 3 separate art printables that include:
good morning, good life
heart
good life, good night
And of course, all of this with a simple, chic look on blush pink! This art printable set is perfect for your bedroom or office wall.
For me, it's really about setting a positive intention in your day, as soon as you wake up. Have a good morning, to make yourself a good life and keeping that thought in mind, means you will have a good night as well.
Sort of full circle, tie it all together… because our perspective on life really does matter a lot and makes a big difference in how we tackle all the issues we will surely bump up against in life.
Download free printable wall art quotes set below…
You can download the freebies below as an entire set of 3 prints. I hope they might help you brighten up your living space and inspire you with positivity, just as Amy does through her Youtube channel and work.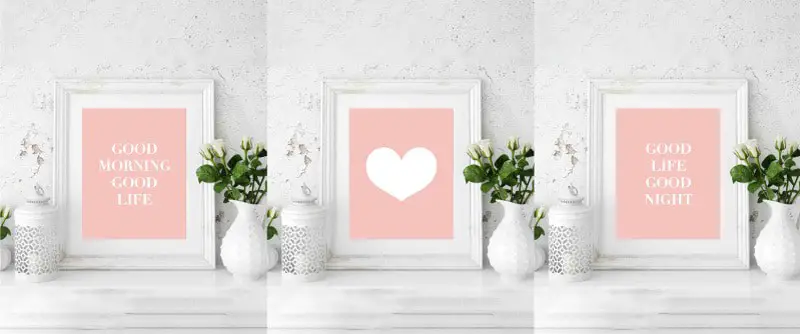 Enjoy this free printable! You can find me on Instagram as @tortagialla  and my Facebook art page is here.
Looking For More FREE Printables?
You might also like these printable posts:
Also be sure to check out all the free downloads on this blog and never miss out new posts – sign-up for my email newsletter to get all the regular updates >>