The temperature is rising day by day here in the Tuscan hills and although my cacti seem to be loving the heat wave, everything else is wilting – including me. The hot weather can really blow our work productivity levels, because darn it – it's just so hot! I suppose it goes for any extreme, because I tend to hibernate when it gets too cold as well. I had to iron clothes today and it was seriously getting sauna steamy in the room. Instead of getting frustrated and resigning to desperation and not wanting to move, I realized I just had to play the game. For me personally, hot weather is good for planning.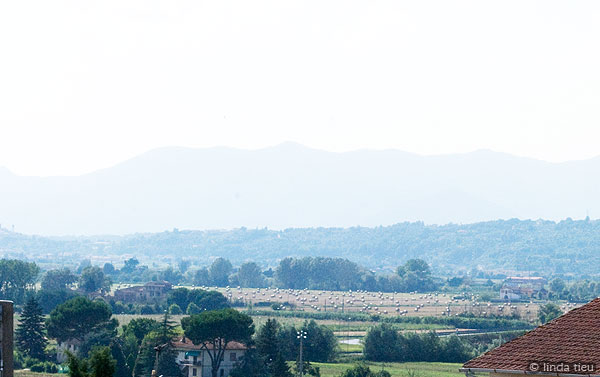 Since the heat makes it difficult for me to stay indoors in front of the hot computer, or do anything detailed under direct lighting – also hot – I decided to go outdoors.  See all those rolls of hay in the distance – I love the sight! If it's too hot to do certain things, there are always others things to be done that won't be too stressful. That something for me is planning and brainstorming. I have no issues taking a notebook and pen outdoors in the shade with a cold drink. It can be relaxing as well. Maybe it's brainstorming of ideas. Maybe it's compulsive list-making. Maybe it's just some moments of peace and quiet. All of that will do you good…
Here's a photo of our black sunflower (yup, they exist!) just blossoming. I love how the yellow still shows with the sunlight shining through. Although I still have to keep my work deadlines, just a bit of shifting and a new perspective can help me make use of all my time in an efficient manner. I've found that planning is a good task in these moments…I just need the time to write, ponder, scratch out and rewrite ideas. When the temperatures cools down later in the day, I'll be much faster doing whatever work I need to complete. So I think it's a win-win use of time, you just have to rearrange it properly for yourself. I have to say this reminds me to be grateful for my open schedule, working from home and as a freelancer. The flexibility really improves the quality of my life, I think so! Hope you are staying as cool as possible, wherever you are! Ciao ciao!