Wondering how to use printables in your crafty projects? It's definitely an amazing resource and I'm exploring cardmaking right now!
Using my own heart themed digital stamps and designs (check out the freebies) – I've made a bunch of handmade cards.  It's exciting to be able to create my own designs and using them to realize some type of project. But of course, you don't have to make your own designs, because there are so many printables out there for free download (as well as paid ones)
All you need is a bit of time to explore the options and try out printables for yourself. Here's what I created today…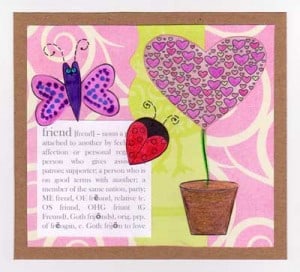 Using Digital Printables
If you are wondering how to use printables, it's really the most simple process. Digital printables are basically digital files you can download onto your computer. They might be PDFs or image files like JPGs. Either way, once you save them on your computer, you are free to print them at home or send them to a print shop. You can resize and adjust as you like, but the idea is that you can print your own designs to use crafting.
Digita papers are great for scrapbooking and cardmaking – or really any paper project you have in mind.
As for various designs and digital stamps, you can use the outlines and imagery as templates for stenciling or other home decor projects. The sky is really the limit… it's up to your imagination.
And the great thing about printables is that you always have the digital file, so you can reuse and try things again and again. Digital supplies also take up much less space!
Check out loads of free printables on this blog here ->
Want free printables?
I hope you will try out using printables in your crafty adventures. If you like printables, sign up for my email newsletter to get freebies and the latest updates in your inbox!