One of the first artists I started following online is the wonderful Irisz Agocs, an illustrator living in Budapest, Hungary.  Her watercolor pieces are loose and free, so full of emotion and adorably whimsical.  They tell a story in just one scene, reminding me so much of childhood days and nostalgic times when fantastical worlds sprung out of picture books!  I was mesmerized by her work, amazed at her skill and in effect wanted to be her.  How can you not be taken in by her fantastic imagination?
I too wanted to evoke emotion through simple lines and vivid colors, I wanted to tell stories and ultimately I wanted to make people smile and be happy.  I still want those things and although I quickly realized I wasn't going to be exactly like Irisz, I think I've learned a lot just following her art blog and how-to blog.  She also has an Etsy shop selling prints of which I've purchased, now adorning my wall and reminding me of what I love and believe in.  She has interviews posted on Artful Wisdom and Inspire Me Thursday, but you can also check out her artwork on Storybird – this fantastic new system where you can write stories and use illustrations in the system or provide illustrations and let others write stories (it's so cool!).  Eventually you can sell those community compiled books or buy them through Storybird, it's an original idea and I was so excited when the beta launched and I learned Irisz's work was used as part of the development of the whole thing.  *gush*gush*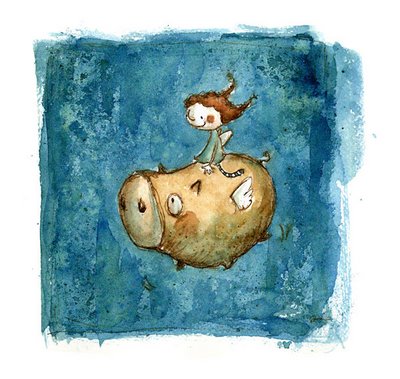 You should definitely check out her work for inspiration, but also for her outlook on illustration and bringing the child out from within us all.  I am so glad she shares her work online, because the online community helped to push me forward in my own experimentations.  I usually take Mondays slow, filling myself with inspiration and excitement from all around.  I hope I've succeeded in sharing a bit of that with you as well – Happy Monday Inspiration!