Hello lovelies – Happy Wednesday!  Thank you so much to everyone who entered my journal giveaway, I am so surprised and honored by the volume of responses.  I hope the winners will enjoy using their new journal sketchbooks…
Congratulations to Emily and Jen C.! You'll each get one of the journals at random (more suspense!) Please email me your mailing addresses so I can ship them off – linda [at] tortagialla [dot] com.  For those of you who didn't win, no worries.  Art journaling is really fun or just doodling, whatever you feel like creating and really it's as simple as stapling a bunch of papers together.  If you don't want to make your own though, I do have exciting news. I just listed my first journal for sale onto Etsy – my very special silver leather covered art journal!
Although I am still a beginner in bookbinding and have seen many masterpieces that are so refined here in Italy, I am still happy to create these little handmade journals myself.  Totally handmade in every sense, every single one different and special in its own way.  I also love thinking how wonderful it is to create something for someone else to create inside of!  The multitude of ideas and thoughts that will go in these journals…that's pretty darn awesome.
So why do I think it's so special?  Besides the fact that I made it…tee hee… all of the pages are individually sewn together, instead of the common signatures (bunches of paper folded). This one has 30 spreads, so the binding is sort of loosey goosey. See the difference when you push it around from the photo above and below?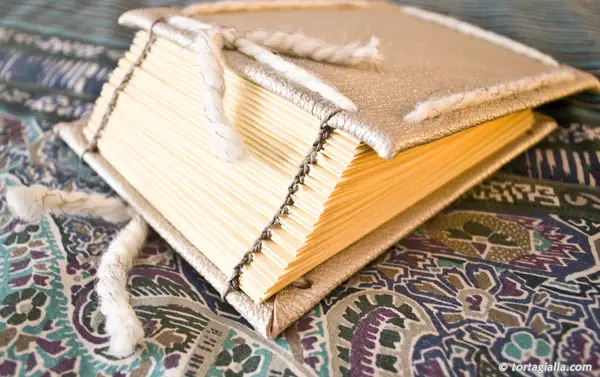 However, I bind all the pages individually so they can all lie flat for ease of use as well as for the space it creates between each page.  See below how the journal looks like an empty photo album from top view?  You know what happens when you put photos into the album?  It lines up perfectly and doesn't poof up…so that's another cool thing.  The spine height gives you room to collage, add ephemera and use layers of medium with everything still fitting inside nicely.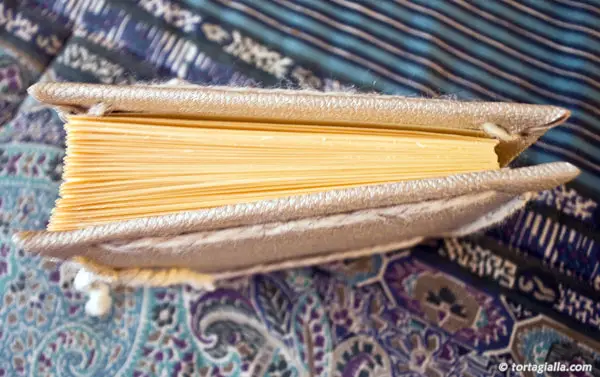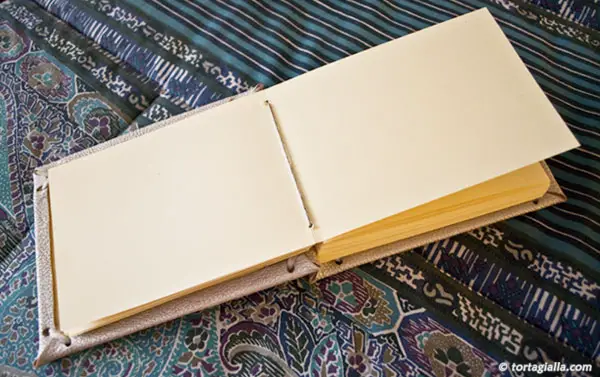 I also put some elements in the inside front and back covers.  I always liked how composition books had a place to write your name or journals that have little encouragement quotes inside.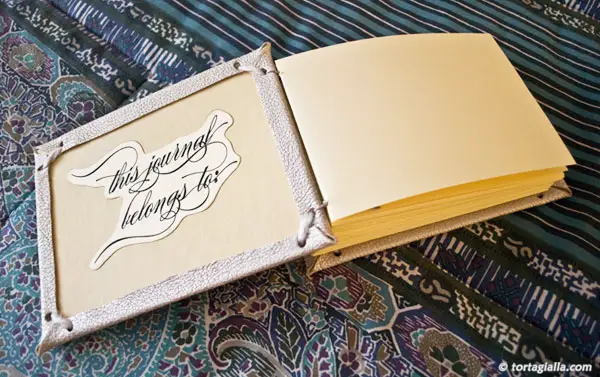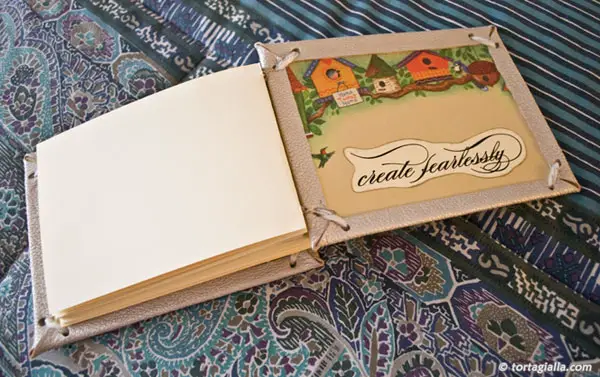 I'm happy with the results of using leather in this way for the covers, but I still have some more experiments to perform and lots of leather to go through.  I just got a sample of a pinkish coralish colored leather today, sooooo cute! It's funny that companies here have to throw away their leather pieces that are inconsistent or too small to make purses, shoes, etc.  Those scraps are actually precious to me because they are unique…and really we shouldn't waste leather…or anything!