Happy hump day to everyone! I've dabbled and posted about bookbinding, making journals and my little black books from leather. I decided to try making a slightly larger black leather journal to see if the flexible leather as a cover would bother me when larger. The process of bookbinding is the same for any kind of journal…it just depends on the materials you use and the variation or twist you might add in here or there.
1. Cut you paper to size and fold to create signatures.
2. Cut your cover material.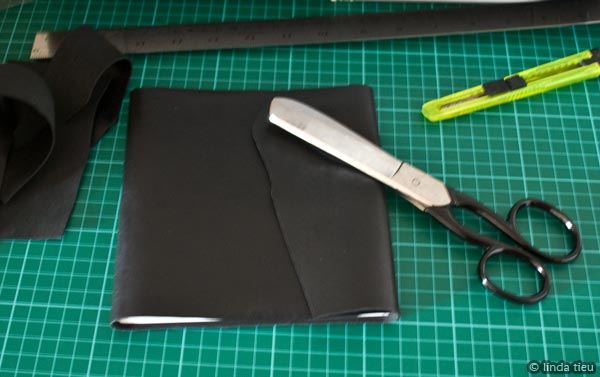 3. Pre-punch holes in your cover and signatures of paper.
4. Finally, bind your book together.  In this case it's sewing the signatures into the leather cover.
The variation I put into this particular journal was in the sewing of the binding…adding buttons for decoration. I really like this look and didn't want to create the wrap around closure that would interfere with the nice button decoration. Instead I'm going to look for a magnetic closure and use that instead. I'm quite happy with this slightly larger size, about 6 inches square. Even though the leather cover is soft and floppy, it doesn't bother me at all.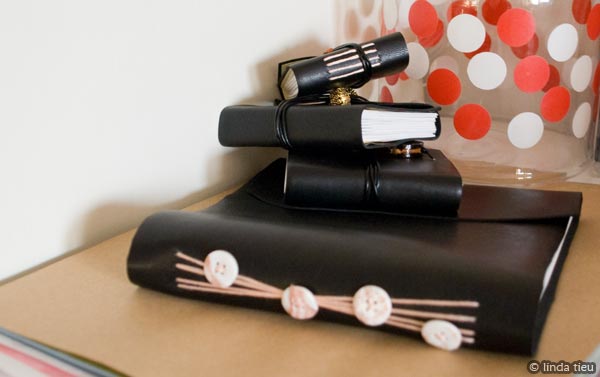 So now I have these stack of journals with no idea what I will use them for. I made them without reason, just experiments to see what would be possible with the leather. I decided it was time to make a bigger journal that I would actually use to hold a whole bunch of old artwork and looseleaf pages. I saw Teesha Moore's Fabric Journal Tutorial Video and wondered if I could do the same thing with leather! So I tried…but soon realized some of the leather I have is way too thick to make those little pillows Teesha described, not to mention sewing leather is pretty difficult in itself.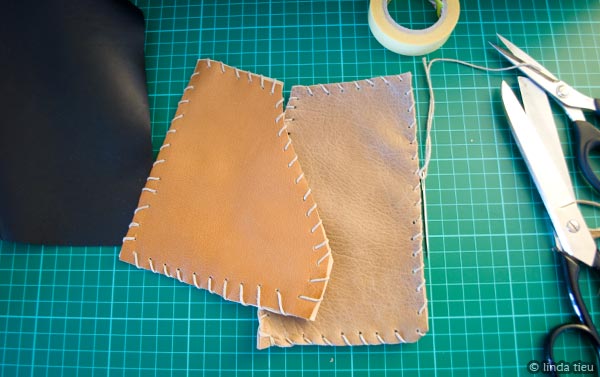 You can see above my first attempts where I pre-punch holes in order to sew the leather pieces together. I skipped filling the pillows in with fluffy stuff, but in the end they don't look cute like Teesha's fabric ones with rolled up edges. It's also scary to think how much hole punching I'll have to do to put the whole cover together…eek! I decided to go for the simplest version possible, taking the patchwork idea of piecing together material to create journal covers. Here's my first two pieces sewn together, which really took a toll on my hands. It's hard work punching the holes and pulling tightly to get the leather bound together. However, I really like the results…so I'm going to keep at it and see if I can piece together enough to make a big journal. Wish me luck…