As promised, I'm back with a few more paper templates for various house shapes and buildings. I thought it would be cool to explore other types of buildings…sort of creating a village or quaint town with paper. Here you can see that I created a little paper birdhouse shape, a tall tower house and a swirly roof building. Still some kinks to work out and much learnings in creating templates, but the results are cool to look at either way.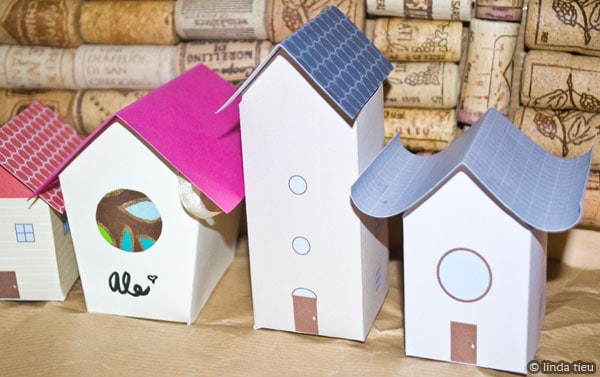 There are those little details to consider and brush up on though…how big tabs should be in proportion to the object itself and how your final project looks at different angles. I've realized that double sided paper would really make the houses look more finished in the end. Or just use colored cardstock as I did with the birdhouse roof. Let me know if you have any tips, suggestions or requests! If you haven't seen yet, check out the regular house and home templates post. And below you can download this next set of three – birdhouse, tall tower and swirly roof building.
Download zip file of birdhouse template, tall tower house and swirly roof building
Let me know what you think and if you have fun with these – perhaps constructing them with the kids? If I had access to a mega copier I would enlarge the templates to a bigger size and see what comes of it. Imagine a little paper miniland! You can also just use the template shapes and create your own house designs and decorations. Above all, have fun! Ciao ciao for now.