Hi folks! To kick off national letterwriting month and I consider it also send your cards month, here's a super simple Mother's Day card you can make. I am really big on using digital elements because of the ease of being able to download them immediately and also because I can create my own matching designs if I'm missing something. However, I also love the real paper, textures and touchy-feeling elements of handmade cards. So the best of both worlds in my opinion would be hybrid cards! Combining both sides of cardmaking I think really maximizes the potential for all of us to create. To start this lovely month of stationery and card goodness here on BackToPaper.com, here's a super easy peasy way to use digital elements. The idea is to make a simple card by combining elements digitally for printout, but then adding a real-life embellishment to bring out the handmade feel.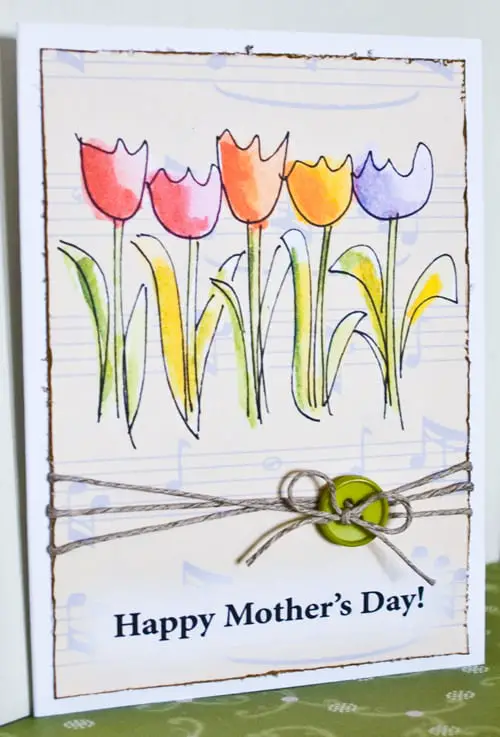 To make the card above I used the free Sketch Tulips digital element from Hero Arts, my own designing in Photoshop and simple embellishments I had lying around already.
I wanted a distressed style, so I created the faded music paper background in Photoshop and put that behind the Sketch Tulip element in Photoshop.
Then I added a simple sentiment to the bottom with the basic text tool and added a drop shadow in white – so really it's a glow to make the words pop a bit more.
I planned to add embellishments in the middle, so that's why I left the space there, so now my is ready.
I printed out onto white cardstock in the size I wanted for my card.
I cut out the graphic a bit smaller than my white card base and added some dimension by inking and distressing the edges.
Then I added my real-life embellishment of string with a bright button around the center with a simple bow.
I glued that whole finished panel onto my white card base and tah-dah!  All done!
Really easy, right? You can download the faded music paper background I created below, just click for high-resolution JPG. Feel free to use for your personal projects or paper crafting projects. I know sometimes it can be intimidating to use Photoshop or related programs, but this same card could have been done by simply printing all elements out and cutting them out individually to combine by hand as well. I really like simple hybrid cards like this, especially if you need to make 50 thank you cards, for example.  You can quickly print out 50 copies of your design. I hope this will inspire you to use those digital elements out there and make a hybrid card.  Enjoy and stay tuned for more hybrid projects like this one 🙂