It really didn't take that much effort or time to finish up my minibook. Goes to show that I was making it harder for myself and procrastinating in pain…for nothing at all. I suppose it's always easier to see the light at the end of the tunnel – so to speak. Here's a peek into my finished minibook of whys… what I love, why I do the things I do and what I need to remember and remind myself of…especially when days are tough.
For the cover, I pretty much kept it the same but added the pinkish patterned paper for consistency throughout the book. It's funny how it matched with the pink number "2" I already had. You can see the old version here and read about how this book came to be. The suggestions from The Book of Why by Karen Grunberg really helped me to organize what I really wanted to document – the whys or reminders in my case. It was really easy to identify the areas of my life that mattered and to write up the journaling.
The opening pages have the introduction of why I created this minibook and the evolution of what it will be now. Simple, typed up. But for the rest of the book, I decided to handwrite everything.
My journaling isn't exactly answering the question why – all the time – they are just bits that came to mind. I'm keeping it loose…it's my book after all… it can be whatever I want. I created spreads for my husband and our Westie Vash, obvious choices.
However, I also included other important decisions of my life…like living in Italy. It's a wonderful thing and everyone is always jealous. But there are challenges when throwing yourself into a foreign country, culture and language. Sometimes I do have to remind myself the whys and they are very wonderful reasons…
Scrapbooking is most definitely a spread as well. It's for the memories and for safekeeping, but it's also fun and creative for me. I love sharing the results, because it puts a smile on everyone's face to remember… lots of reasons why I scrap. I didn't have photos of me scrapping, so decided to use little thumbnails of my favorite pages. I will be adding in thumbnails over time, I think.
I also included a spread for taking care of me, myself and I. Often…we feel so selfish in doing things for ourselves…this especially happens to women who are natural caretakers of the household. I really want to remind myself that I need to take good care of myself, to satisfy my own needs. Ultimately, me being happy benefits everyone else too. Less crabbiness and more smiles all around…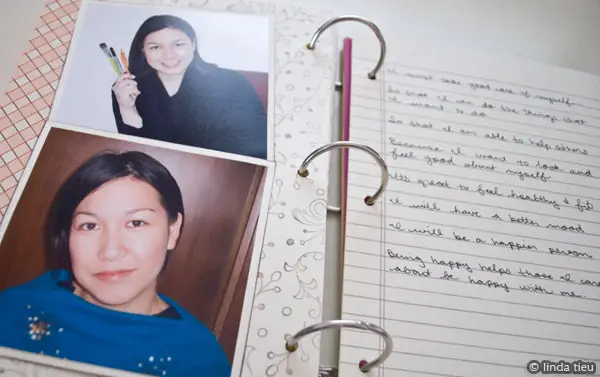 The last spread of my book really makes me happy… I have a clip to slip in my favorite photos to look at … and my parents on the right saying "be happy"… I actually have this open on my desk because I love it so much.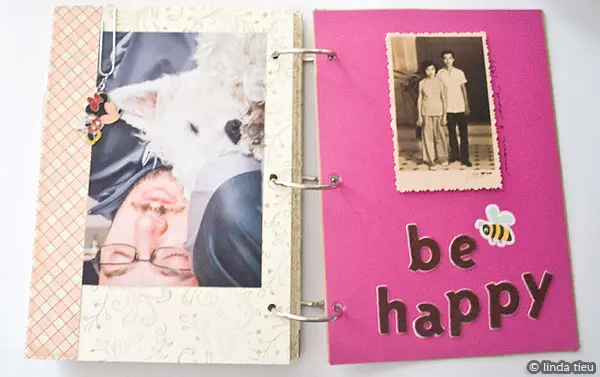 My little book is definitely a twist of sorts from the original book of why idea, it just morphed into a sort of perspective on various aspects of my life. Definitely reminders and words of wisdom, from me to me. I'm really happy with the results and glad to have got it done. Again, I don't even know why it was so hard to finish before…silly silly. Hope you enjoyed seeing a peek into my book…maybe you'll create your own?