Yes, most all of my pages these days are of our little boy. As a new mom, I suppose there's not much else that I want to scrap at the moment… at least, not until I get the bulk of his photos completed! Of course, I feel like every picture should be scrapped, even if I don't have an epic story or tale to journal about. I suppose that's when the pocketed photo pages come in handy? But I still like the look of traditional scrapbook pages, not to mention it's creative fun as well.
Using the Webster's Pages Lullaby Lane paper I've been hoarding for years – I created this simple layout with one of the first photos snapped of our little one. So precious – swoon! Okay, I know… it's always YOUR kid that is the cutest and most adorable… I get it! Anyway, I love the photo so much, I wanted it to be the main focal point. Embellishments are minimal with just a few banners I hand-cut. The white line you see is actually a line of glue with white glitter sprinkled on top. I'm trying to actually use my stash of items, so it was a totally random addition, plus the line turned out way thicker than I intended.
The page turned out nicely anyway, so I'm happy with it. I would define my style as a bit more than clean and simple. I tend to want to add more, but it's never much compared to most scrappers out there. So in addition to scrapping photos of our baby, there's also a lot of cards and notes that we have been receiving. I want to keep this ephemera, so created a pocket out of patterned paper to hold them all in. I really like the effect of a pocketed page with one side semi-transparent.
It's really just a giant envelope that I will actually punch holes in to slip right into my scrapbook album, like another page as you flip through. Once side is decorated with the cute turtle wrapping paper a gift came in – yup, wanted to keep even that! The other side is a semi-transparent patterned paper so you can see the cards within peek through.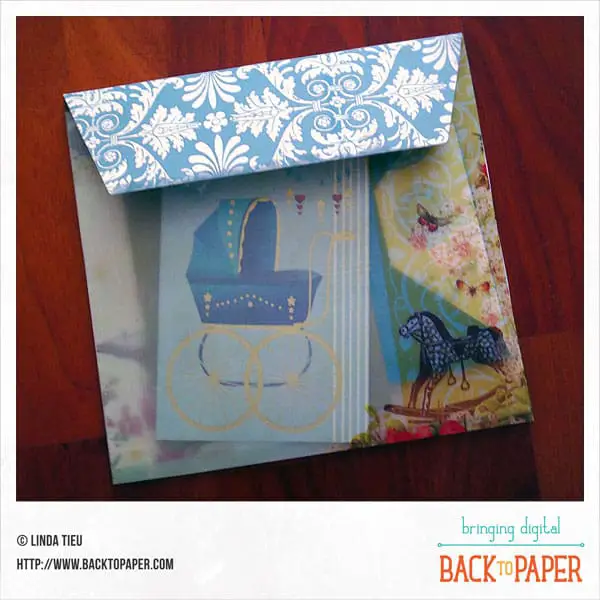 I created the pocket page on a whim and was surprisingly delighted by how it turned out – no measurements or anything. Just cutting and gluing – because that's pretty much how I roll now – just do it!
I suppose my boldness is due to the fact that I have limited time. So I jump into action these days, making the most of my short spurts of available time. I'm finding that limited time actually gets me to act immediately 😛 Is this natural mommy time management?
How do you find time to scrapbook with a busy schedule?