So I saw the videos about the box flower and ornate version from the Cosmo Cricket blog and realized…hey, if I just played a bit with a bunch of circles, I'm sure to create my own paper flowers to use as embellishments. Since I now have a Big Shot it was easy to cut out a whole bunch of circles in various sizes with my nestabilities dies. Actually, if you have circle punches it would be super easy as well. I started by making the box flower…but then just started folding and connecting however I felt like. It was really fun to just play around!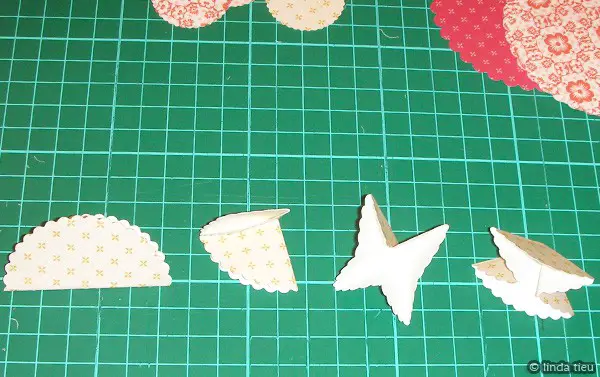 I actually like to flatten everything out instead of puffing up flowers, because my scrapbook pages go in an album and I don't like too much bulk. However, the more 3D versions can go on the cover of minibooks and such – suddenly ideas were spewing all over and I didn't have enough circles to play with. Here's what I've created so far and I think they are super cute… maybe this is old news for everyone else?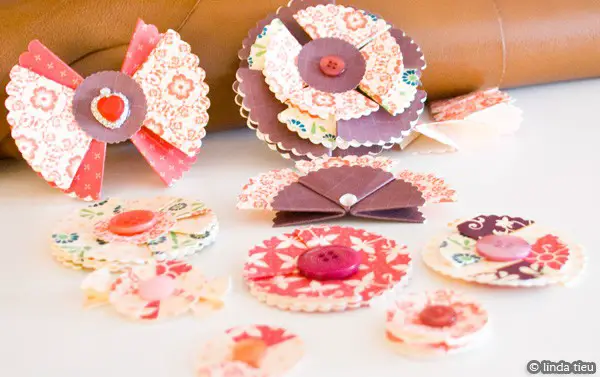 Who would have thought it really was that easy…if you use pretty pattern paper that you like, the results are bound to be lovely. I've never been a buyer of lots of embellishments because it's odd to use the same item multiple times, unless it's brads or simple elements. I tend to just buy the basics and try to combine elements to make it my own. One thing I've noticed is that I admire so many designs by other folks, especially when looking over the gallery at Two Peas In A Bucket…but I wouldn't want to do it myself even if I think it's pretty. Sometimes I look at a layout and just think…hey that's xyz brand or line all over it and not even getting into the story or photos…which is bizarre because I want my photos to be the focus. I suppose some designers are just showing off their product…and I do love looking at those kinds of projects and admiring them…I just can't get myself to create in that way. Sometimes I think my work can be a bit bland or boring in comparison, but I soon realize that adding more just because will make it like marketing for scrapbooking product – which is not my job 🙂  Anyway…just random thoughts there on scrapbooking!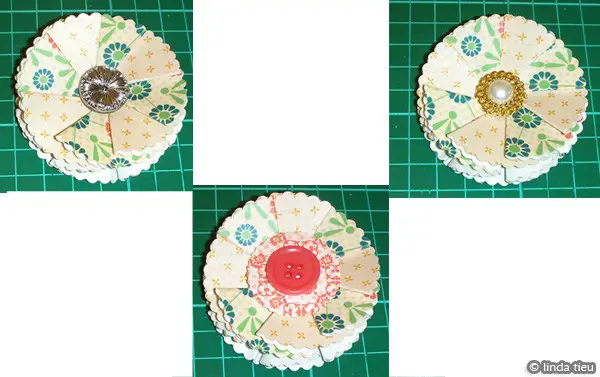 Anyway, back to paper flowers…I'm happy to have played a little with paper and still amazed at how a tiny change like different buttons can give you so many different looks. I realize there are only 24 hours in a day, but since I've been working on a lot of digital stuff I am missing the paper side of things, too.