The Pixel and Paper Series highlights digital techniques and products for scrapbookers like you and me. I believe that everyone should consider digital elements to be a part of their scrapbooking toolbox, so let's learn together what the possibilities are. Each week, I'll be sharing the opinion of a real-life scrapbooker to reveal how they use digital in their scrapbooking. Each post will also offer a freebie download to help you get started on your pixel and paper journey. Enjoy!
Introducing… Ali Edwards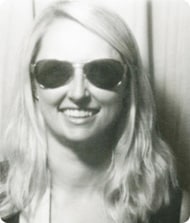 If you are a scrapbooker, you probably know Ali Edwards as one of the gurus in the industry. Seriously, there are so many people that follow her blog and have journeyed along with her scrapbooking story. There's no doubt that her philosophy, techniques, designs and thoughts have impacted the industry and community of scrapbookers. From projects like December Daily and One Little Word to a multitude of products and published books (Amazon link)…
Ali is definitely what you could call celebrity.
I was immediately attracted to Ali's design and style, but also her philosophy and thoughtful process of scrapbooking. It's always interesting to follow along her process and join in with the various memory keeping projects she embarks upon. She offers a lot of information on her website and even an intro to digital scrapbooking. I always find myself inspired and wanting to scrapbook and I suppose that is why so many follow her blog. So I had to ask Ali about how she personally uses paper and digital tools…
Ali says:
Just about every layout/project I do incorporates both my computer and paper scrapbooking products. I love that they work together so very well in helping me to get my stories told.

My process ususally begins by opening my photos in Photoshop before printing. It's there that I add my digital word art, frames, or journaling directly onto my photos. From there I print my photos here at home (either on an Epson PictureMate Show printer or an Epson R2000 over-sized printer) and then add them either to Project Life or to a cardstock paper layout.

I also print out digital Project Life journaling cards and add those to Project Life.
Digital and paper go hand in hand
I think that Ali is a great example of a scrapbooker who uses everything around her to create in her own unique style. From digital to paper, techniques, inks, sprays, various products, graphic design… it all goes together and gets interpreted through her lens.
If you take a look at her layouts, you'll notice how much variety there is and often you can tell what is digitally printed by her at home or what is manufactured product.
via Ali's blog
The idea is that digital and paper go hand in hand. There's no reason not to use the digital designs and tools at your disposal!
via Ali's blog
Try it for yourself
I recently created a piece of graphic word art for a layout about my newborn son, so decided to share it with all of you. It's definitely a bit in the style of Ali Edwards, in terms of being a graphic clean style. You can use the color version directly or alter and color using the black and white PNG file. In fact, it would be cool to clip different pattern papers to various parts or use a digital cutter perhaps to cut the design out? Have fun and happy memory keeping!
Download BTP_TheSmallestThings
If you like printables, be sure to sign up for my weekly newsletter for new designs, links to freebies and the latest from yours truly.