The Pixel and Paper Series highlights digital techniques and products for scrapbookers like you and me. I believe that everyone should consider digital elements to be a part of their scrapbooking toolbox, so let's learn together what the possibilities are. Each week, I'll be sharing the opinion of a real-life scrapbooker to reveal how they use digital in their scrapbooking. Each post will also offer a freebie download to help you get started on your pixel and paper journey. Enjoy!
Introducing… Lain Ehmann from LayoutADay.com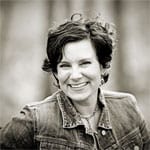 A veteran in the scrapbooking industry, Lain is the leader of the Scrap Happy community and blogs at LayoutADay.com offering a whole bunch of online scrapbooking events and classes. I've participated in Layout A Day (LOAD) before and find it the most inspiring experience. It might seem a bit much to scrap every day for a month, but it truly allows you to discover your style. The intense month of scrapping forces you to boil down to the essentials of what scrapbooking really is for you – I loved my experience!
So I had to ask Lain what she thought about digital tools for scrapbooking. She's primarily a paper scrapper, but certainly has a great perspective.
Lain says:
I don't like ANY kind of divisions. We're all doing the same thing – memorializing our family and our memories. HOW we do that does not matter. We will have more and more tools at our disposal over the coming years.

I love using digital elements to create journaling cards for my pages. I use Photoshop Elements to resize and customize these elements for my pages. Then I print them on cardstock and add them to my paper pages. I can see myself adding more digital tools and techniques to my pages over time. I can't wait to see what's next!
Use digital to create paper embellishments
It's a great idea to transform digital designs into paper embellishments, basically creating and printing whatever you want. For those who use graphic programs, the sky is the limit in terms of designing little tidbits for your memory keeping. From journaling cards to background paper patterns to graphics for decoration. However, there are a multitude of digital kits available out there and they should not be limited to only digital scrapbookers. You can always print out those designs to be used in your paper scrapbooking.
In fact, I do that quite often! I print out background papers, journaling cards, word art and graphics onto cardstock and use them as if I bought them at the store. The beauty of digital is that I can print as many as I want in different sizes and even alter the color if I wanted to. Pretty darn cool, huh? While we are on this topic, there was recently also a post on Shimelle's website listing 5 ways a paper scrapbooker could use a digital kit.
Try it yourself
I like having my scrapbooks on real-paper and adding layers, textures and embellishments. So printables are a great digital supply, because you can use again and again. Here's a cute little birdie graphic that you can print out and use in your own memory keeping.
Download BackToPaper_Bluebird
Maybe for a page about your Twitter tweets, a little birdie said or a Spring season memory? Enjoy and feel free to share your pages in the comments below. Would love to see what you create or what you think about using digital for paper scrapping.
If you like printables, be sure to sign up for my email newsletter for new designs, links to freebies and the latest from yours truly.