The Pixel and Paper Series highlights digital techniques and products for scrapbookers like you and me. I believe that everyone should consider digital elements to be a part of their scrapbooking toolbox, so let's learn together what the possibilities are. Each week, I'll be sharing the opinion of a real-life scrapbooker to reveal how they use digital in their scrapbooking. Each post will also offer a freebie download to help you get started on your pixel and paper journey. Enjoy!
Introducing… Lisa Truesdell
I have heard and seen the work of Lisa before, but was truly introduced to her through Two Peas In A Bucket and most recently bought her e-courses there as well. I love to watch her videos and check out her projects for inspiration, so definitely wanted to hear her take on the digital versus paper divide in scrapbooking. She blogs as gluestickgirl and shares a lot about her process, from traditional scrapbooking to project life.
Lisa says:

I am very much a tactile scrapper, so I like to find ways that I can bring the digital side into the physical world. One of my favorite digital products are printable journaling cards and accents – I love that I can buy a set & print them out no matter what time of day it is. Total instant gratification. I've also had a lot of fun recently experimenting with photoshop brushes of stamp designs – they're a great way to add a little something to a photo before you print it. And let's not forget the Silhouette Cameo. Being able to create a title or a fun accent from any font or image that I have on my
computer is just too cool.
Instant Gratification
I think Lisa hits on a beautiful point regarding digital tools – it's nearly always instant gratification! When you need something, you can quickly check online, download and print – wahlah! Pretty cool huh? There's also the matter of multiple uses given the nature of digital products. In a sense, the possibilities are endless.
I know that Lisa often uses digital frames and digital journaling cards for her photo printing and project life scrapping. You can see great examples of her scrapping style that is very tactile and paper – even though she uses digital tools as well.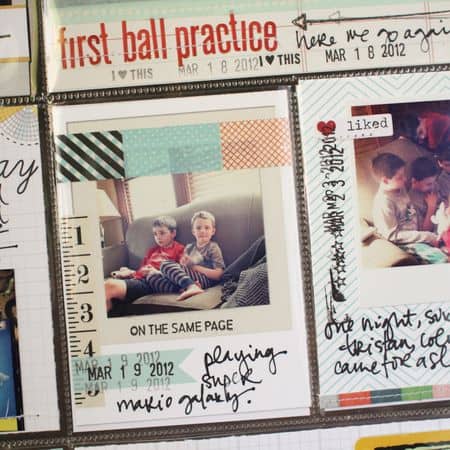 I hope you have enjoyed the entire Pixel and Paper Series as I wind it down with this post today. Ultimately, digital is simply another tool and perhaps one day we will no longer segment ourselves as a digital or paper scrapbooker.
We are simply all memory keepers who care about documenting our lives and sharing.
Whether it be with old fashioned pen and paper or with the latest social media technologies – the important thing to remember is to open yourself up to possibilities and have fun along!