Looking to make a faux library card pocket for your paper projects? Print your own using this free printable library card template – a free PDF download.
In writing my handmade zine (Issue 2 of Pensieri) named Pockets Galore, I've been exploring all kinds of pockets we can print-at-home and make for paper crafting projects.
I've made so many examples and prototypes and it's a fun process to test out what works! One such pocket type is the old school library card pockets at the front of books. I don't think libraries actually use them anymore, but they still look so cool!
You can probably find them in old library books or vintage paper lots, but it's a lot easier to just make your own! Use my printable library card template to make as many as you need for your cards, journals and planner decoration.
Just print out the PDF template I've created, trim to size, fold along lines and glue to your project. You can obviously distress it or decorate as you would like as well.
By the way, I've also designed printable library journaling cards in the past, so you can print those out and stick those in the pocket as well.
I love to use this printable library card template for adding pockets into my journal pages and sometimes I print on kraft paper to change things up, not just plain white paper.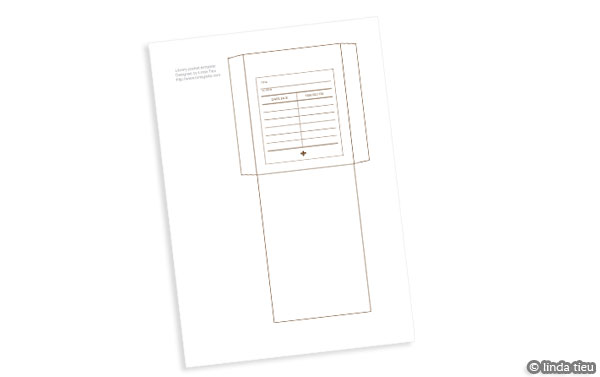 Download Printable Library Pocket Template PDF
So I hope you'll enjoy using this free printable, you can definitely tag me on social media @tortagialla so I can see what you created!
Finally, feel free to spread the word about this free printable and pin to your heart's content. I'm happy to share my templates and make paper crafting accessible and enjoyable for all. Have a great day!
And if you like my design printables be sure to sign up for my newsletter for the latest updates!