Download this freebie printable wreath PDF and use as a coloring and lettering page for an afternoon of fun creative time.
Ahh, I always associate the fall season with coziness. Sweater weather is definitely my kind of season! You might be conjuring up all the colors of Fall leaves and sipping some yummy hot chocolate. These feelings inspired me to doodle up a whole bunch of wreath designs.
I always like to do things in series, so when an idea pops up, I end up creating many variations. It's good practice, right? So I thought it might be nice to share one of the pretty floral wreath drawings I created as a printable.
This printable wreath drawing is great for coloring and lettering your own quote in the center. I can imagine many different DIY and craft projects using this motif… what about you?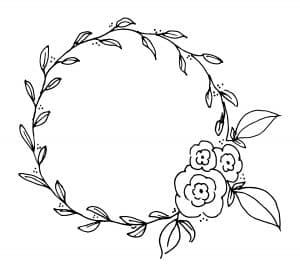 Download Free Printable Wreath PDF
In tune with the seasons, you can even create variations, coloring up different versions in Fall colors or Christmas colors – it's up to your taste! I can also see this printable wreath being used as a page divider or planner opening pages. It's fun to personalize and make things your own with customization, right?
Create something today and frame your favorite quote or make a custom named wreath image for a friend! I think this printable is super versatile and fun to play with.
Enjoy this free printable with your kids, friends and family. Download for your personal use and feel free to share the link to this blog post with your crafty friends!
If you want more printable downloads, sign-up for my email newsletter!