I've always been a big fan of rubber stamping, fascinated by the designs and creations that can come from them. I thought it would be to cool to create my own, especially as I'm going through Lena Corwin's book, Printing by Hand: A Modern Guide to Printing with Handmade Stamps, Stencils, and Silk Screens (affiliate link to Amazon.com).
The very first project is about creating your own rubber stamp design and I was so excited to finally take the plunge!  I used my little owlie character and created a stack of owls to be made into a rubber stamp.  I just received it in the mail and so happy with the results.  There's something amazing about seeing your own design being made into the real product, so darn cool!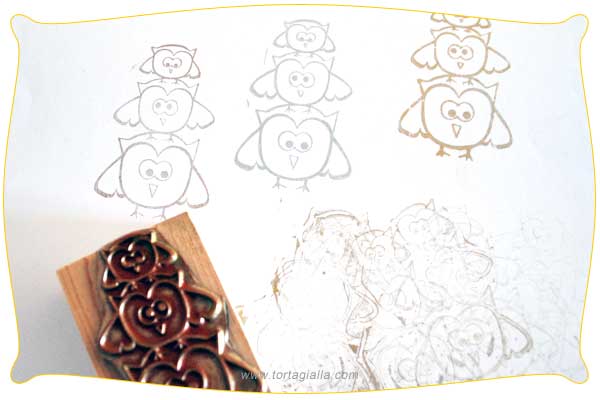 Of course, here in Italy it is a pretty costly process.  I can't even mention how much because it's pretty ridiculous, but I had gone ahead with it for the first time just to try it out at least once.  There are other options online, but I seem to have problems receiving mail from outside Europe.  I had made some orders from the USA in June and still haven't received them – probably lost in customs or Italian mail limbo.  Sigh.
I decided it would be better to carve my own stamps given the situation, so experimenting with linoleum carving. Still learning, but it's pretty darn cool to transform a piece of rubber into a cool design.  Now I'm thinking of what to carve next…