Looking for a simple cute owl drawing for free download? Here's my first little foray into illustrating digitally, transforming doodles into digital stamps.
Today I created a simple cute owl drawing… let's call him owlie! I hope you'll enjoy using him in your crafty projects. It's obviously a great digital stamp image, but I have realized that outline drawings are just clipart that can be used for many different things. Or even just coloring pages for little kids! Just click on the image above to get the full 300dpi PNG to download for personal use.
I'm not sure where all of this random designing and illustrating will take me in the end, but I have so many ideas.  I colored owlie up and made a  desktop wallpaper to try out. It's a great thing to have a motivating message every time you look at your computer, right? I'm definitely into positivity, trying to combat the overanalyzing and rumination in my thoughts.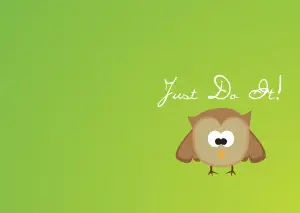 Using the same owlie image, I created a little repeat pattern as well. Just testing things out and seeing what is possible. Obviously I have so much to learn still. But the possibility is there! I think a pattern would probably work better if there were more variations of owlie with other elements and not just a simple repeated image. Of course, I don't know anything about this kind of design, so there's room to grow and learn for sure.
I do love the idea of pattern design. It can be so mesmerizing to create and look at… the beauty of art and design, right?
I hope my digital explorations will take me somewhere, as I am still trying to find my place creatively in this big world. I've gone through some life changes and all this time to contemplate has left me a bit restless, I suppose.
Some days are lovely and others are frustrating, but I guess I have to listen to my own motivations, and as owlie says, just do it! Thanks for checking out my simple cute owl drawing and I hope to share more soon!
Want More FREE Printables?
Love printable designs and downloads? You might also like these printable posts:
Also be sure to check out all the freebies on this blog and don't miss new freebie posts – sign-up for my email newsletter to get all the regular updates >>