I am loving Spoonflower and all the great designers currently using their platform. It's not cheap to design and print your own fabric, but the satisfaction of having created something from scratch really drives you to make the best possible product in the end. I also love the empowerment their platform is giving to designers such as Liz Scott, who  runs Wonderfluff on Etsy – her own fabric designs printed using Spoonflower. I can't wait until they go out of beta and enable you to sell your fabric designs direct to the public.  It's great innovation and a grand opportunity for all of us.
I've seen so many great designs and professional fabric patterns from independent designers, it's really fantastic that so many people have been empowered. There's also a great community as well – designers who are all passionate about textile design. Very cool stuff! The internet has given all of us the possibility of communicating worldwide and now there are companies popping up to help with business and manufacturing – Spoonflower, Etsy, Lulu, Blurb…to name a few. I wonder what other innovations will pop up via the internet for independent designers and artists? It's definitely a fast changing world out there and supremely exciting!
After creating my birdie pattern and realizing it would make great fabric for PJs, I signed up with Spoonflower and ordered a swatch to see how the colors will turn out.  It's so exciting to be able to have such power of creation upon my hands…woohoo!  Also, there was a special theme presented for competition on Spoonflower, a fabric design with spoon and flower design(s) incorporated somehow.  I decided to take part and created a spoonflower bud pattern.  A simple repeating design with bright colors that I think would make a nice tablecloth or napkins! What do you think?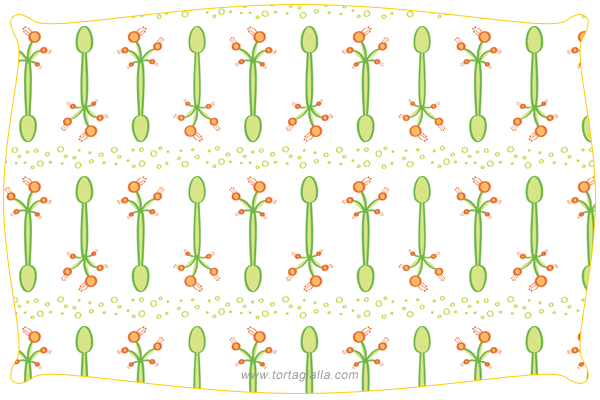 You can find this spoonflower bud design as fabric on Spoonflower here…
Interested in more designs?
You can check out my spoonflower shop here –> I love designing and offer lots of printable freebies on this blog. Don't miss out on updates by signing up for my email newsletter >>