Looking for a free printable paper dolls? Check out my template here that is free to download and print. A great DIY crafty activity to do with the kids.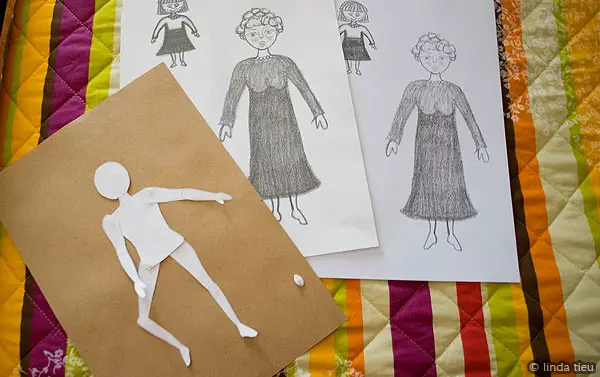 Today I decided to revisit my old paper doll template because I wanted to change up the proportions and create variations. Let me share a new printable paper dolls template with you.
I recently read a post on Violette's blog about leveraging a drawing, reusing it multiple times or perhaps creating variations by making multiple copies to work with. I don't know why, but previously I always thought I had to create everything from scratch.
It's the romantic assumption that original must be better?! I realized that it's just crazy to limit myself like that. Why I am creating rules to box myself in, right? When you draw something, if you keep working on it, them you can experiment even more.
I suppose the idea of copying – even if it's yourself – seemed wrong. My thoughts suddenly drifted to discussions and debates about how nothing is original and we all build our work on top of those before us. And that's a whole other discussion….
Suffice to say, I sort of had an epiphany and have freed myself to do whatever I want. I can reuse my own drawings and I don't have to work from scratch each and every time at all.
It's funny how sometimes we get so deep into our work that we lose sight of the big picture. I totally lost perspective regarding the freedom of creation and the fact that there are no rules.
Glad to get that out! So, all this led me to revisit my printable paper dolls template, creating two different body proportions to play with.
Feel free to download the free printable PDF below. Use to your heart's content and I hope you have fun with it! The first page is meant to be cut out and put together to make a moveable printable paper doll and the second page is just the outline to draw directly onto if you want the full piece.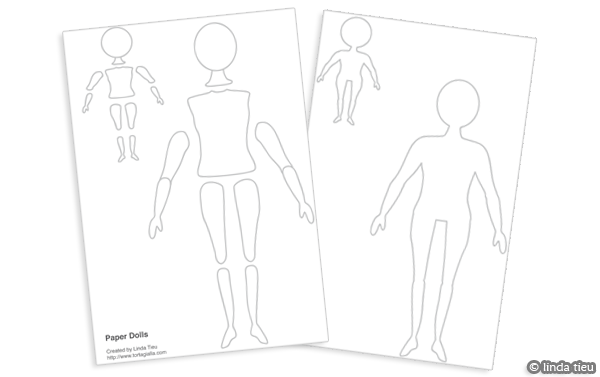 Download Printable Paper Dolls PDF
I used the printable paper dolls to play around with body positions. You can place the parts in a certain way with temporary glue or tacky glue and trace over to experiment with drawing different positions.
It can serve as a nice guide for drawing the body form… or you can just make yourself some pretty paper dolls. That is definitely fun as well, especially with your kids!
I started to work in my art journal and on one page I drew a granny and a scary girl doll then made a photocopy. Now I can always have the original to experiment with and I can cut out the copy for collage.
Hope you are inspired to go make some paper dolls and copy your own Art! Sounds funny, but sort of daring too, huh?
If you love printables, sign-up for my email newsletter to get all my updates!