Happy Friday everyone! Although I think some people might be in a frustrating situation right now because of the Iceland volcano. Lots of people were evacuated and the news says there might be health risks related to the fall out. It's also causing cancellations of flights – including all travel between Europe and North America. I had not even thought about that when hearing the news, but my brother happens to be one of those people stuck in Europe! It's amazing how even impeccable planning and timing can't account for all possibilities. Goes to show that we can't control it all and it applies to so many things in life, right? I know I would be freaking out if I were at the airport right now. My husband always wonders why these uncontrollable events cause me to cry from frustration…hey, that's just how I express my emotion! But I understand he is trying to tell me that it doesn't help to freak out, it's all out of our control at times. Okay, I'm not even a person stuck at the airport right now, but it's starting to make me anxious knowing my brother is in that situation. While I keep in contact and see if there is anything I can do to help, I'm also calming myself with crafting. I suppose it helps to get busy with your hands, focusing your mind on a little task.
After finishing some freelance work, I continued to make my little black books, testing various methods of binding the paper to the leather covers. I was actually quite surprised that the glued binding works. You can see below that the single pages fan out nicely and the glue dried into a flexible state. I suppose only after years it might start cracking apart? Of course, I didn't purposefully try to rip pages out, so not sure what will happen with use.
Since I didn't use any padding between my clamp and the book, you can see there are some marks and glue on it. I decided to cover that part up as I had to bind the paper to the leather cover anyway. I just cut out some circles and used them to anchor the paper onto the leather with some glue. The circle shape is actually a nice detail and I was thinking it would be nice to use many different shapes or flourishes on these inner binding pages.
After I finished this little book, it seems like a pretty standard method, pages fanning out.  Again, the glue seems to have dried flexible at this time, but I still feel like after a while it would start to crack or if I pushed down the pages to write. Am I just being paranoid? Wondering if anyone has had experience with glue binding?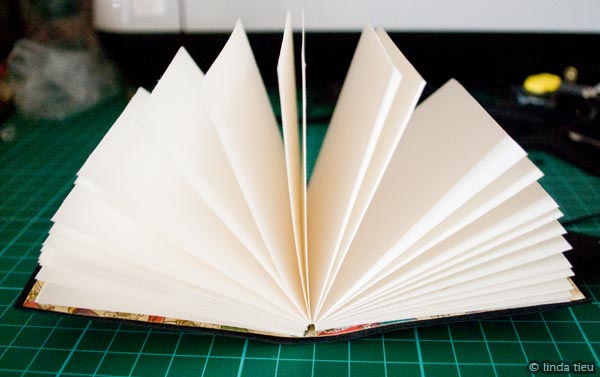 The next little black book I made has multiple signatures sewn together. This allows for many more pages, but binding it all to the leather cover pretty much went the same route. I just cut out some decorative paper and glued it all together. Although, you can see the decorative paper on the back is shorter…not sure what I was thinking there. I knew it was shorter, but just went with it…zoning out?!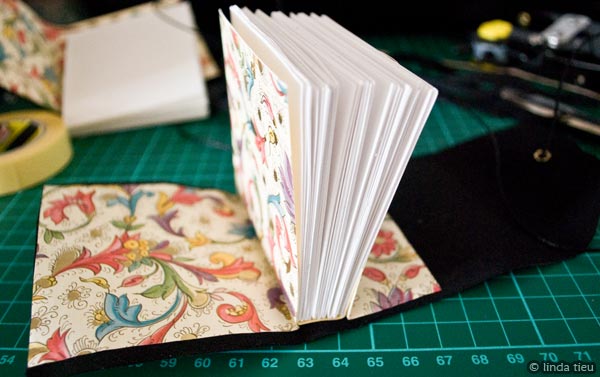 Since I had glued decorated paper behind the binding part already, this doesn't look as clean from the side. There's also an element of attaching just the right amount of cover material so you can close the book with perfect edges, but still open all the way flat. The decorative paper was definitely getting wrinkly in certain parts. It seems that this method is similar to the glue method, just with lots more pages.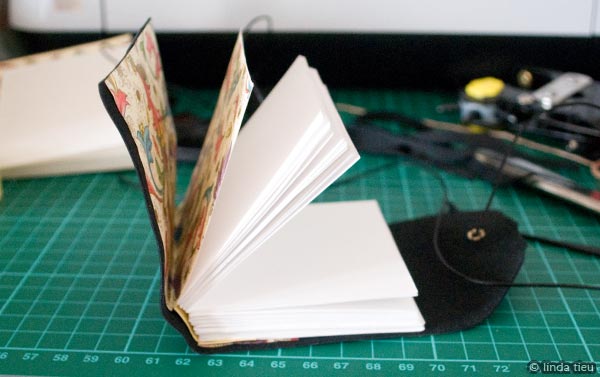 Finally, I made a super mini book with the paper left over. This time I decided to sew the signatures directly into the leather cover instead of relying on glue to hold it all together. I realized that this works better with fatter signatures because your holes do have to be a certain space apart to not completely rip through the leather.
The sewing isn't really sewing – more like tying each signature through the two holes, so you see the embroidery thread on the outside binding and tying a few knots inside to secure.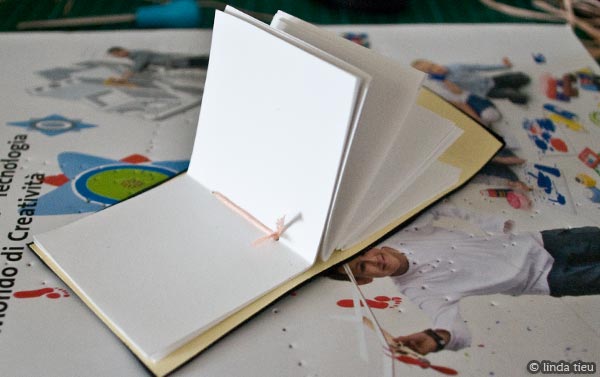 I used an old earring for the bead part and realized I could put one bead on the end to catch the eyelet, so the string doesn't go through. Then the other end of the string has a bead so you can secure the book after wrapping around multiple times.  This adds a really pretty detail to the book, not to mention reuse of random jewelry items I have. I seem to always lose one earring, so I have a bunch lying around for use.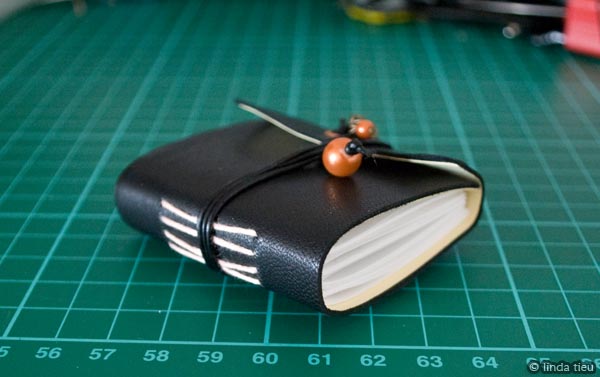 I noticed that this type of binding really works well with the leather. Each signature is secure, but it's all very flexible and easy to smash open the paper for whatever doodling or writing. I suppose that is why you see so many of these journals in touristy Italian bookshops!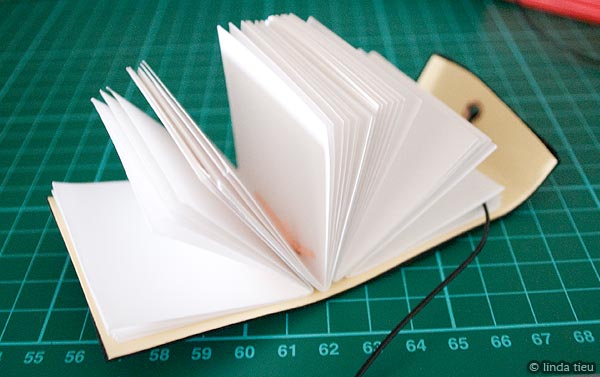 I know there must be a cooler way to bind these individual signatures to the leather though. Stuff for sale seems to look more complicated anyway. I really think I'll have to get some bookbinding sewing charts, because thinking about figuring out a cool stitching method myself just makes my head hurt!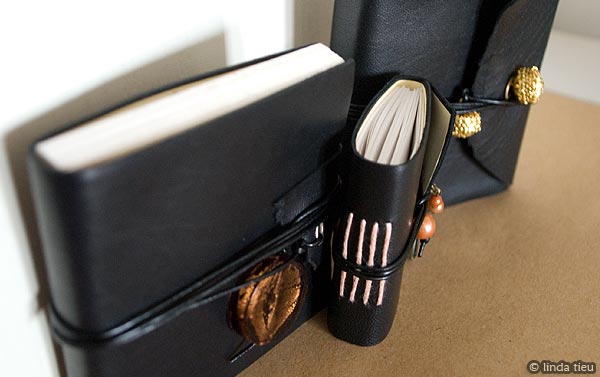 Overall, I am really satisfied with my little black books. Even with the little imperfections, stains of glue or wiggly edges…they look super cute and are totally unique. I think the addition of decorative paper inserts and the beads really add a nice accent to the stark black leather. I think my favorite is the smallest one – not sure if the size is winning me over – but I think it's the exposed stitching and flexible binding. What do you think? Let me know if you have any ideas or variations. I'm already going to try a concertina type book after watching how Marion from A Piece of Craft, made her heart minibook shown on prima's ustream video. Especially for the tiny books that seem sized for gnome hands instead of human hands, they seem perfect for binding a little art book or something meant to look at rather than for actual use. Well, I hope you enjoyed following along my bookbinding adventure and hope you have a great weekend. Ciao ciao lovelies!