Woohoo! I am so happy to have finally completed my first tissue paper mini album…sweet! It seemed to take forever, given this new format and the tags inside the flattened tubes. Although I've learned a few things for next time around, I'm super satisfied with the results.
First of all…mini albums are just uber cool. I'm not worried about archival issues and I want it to be touchable and explorable for kids and adults alike. The size makes it a less challenging project as well. I used papers from an Ikea stationery set and just printed out photos at home.
This mini album is just select fun times when we were in the USA. Disneyland was a big component of our fun times. Partly because I worked for Disney and we went there for free all the time 🙂
The little tags come out from the inside of the flattened tubes. It was a bit tricky because I had flattened them out so well and glued paper over that it was hard to stick tags in! I actually used my bone folder to "stretch" out the openings a bit.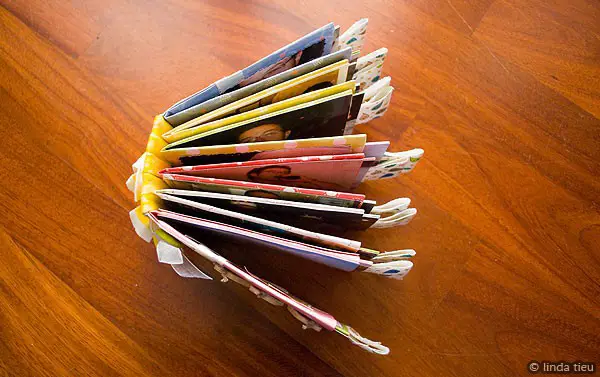 The book "pages" are just tied into the binding. Pretty simple way to bind the book which I like more because I'm not a fan of loose rings. Besides the fact that I like bookbinding anyway, I like to have the solid structure where pages stay together nicely.
The size of the mini is perfect as well. Not only for adults, but I think it would be attractive for kids to flip through…I cannot gush enough about my discovery of tissue paper roll minis. Where have I been, right?!
The binding just has scrap cloth tied around. It's nice decoration, but also strengthens the binding and keeps each of the pages separated a bit too. Overall, it was a fun process with a pretty result. Time to share with peeps… 🙂 Hope you enjoyed seeing a bit of my mini. I will definitely be making more with the tissue paper rolls I've been saving! Check out my post about crazy for mini's competition as well…