Happy Tuesday to you!  Today I am spending time doing some Spring cleaning from a digital standpoint. I tend to always have so much going on, things can get a bit messy on my computer.  I am also wondering how I can organize things better and reduce the cost of listing items on Etsy…even though it doesn't seem much at first, over time it really adds up.
My first experiment was setting up my big cartel shop with the cute kitchen prints you see above.  I can only list 5 products with a free account, so I suppose it's not a long term solution.  However, I did want to try it and it is certainly very simple to add products and set up shop.  Creating these graphic art prints sort of replaced last weeks notes to myself art print, but I did get to illustrating one this week – Smile!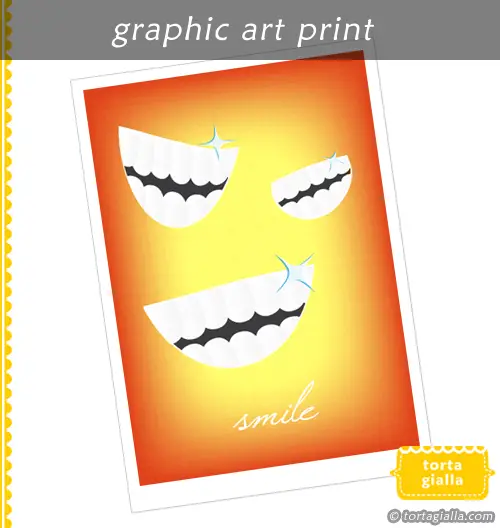 Again, due to listing costs I won't be listing these prints into my Etsy shop anymore…will have to figure out a way to share them somewhere.  Although it's nice to be part of the Etsy community, there are so many shops it doesn't seem like listing there helps you to be seen really…you have to get people there no matter what.  In which case, isn't it better to just list items in your website and have a Paypal button?  I wonder…
In other musings, I also created a new digital stamp set of owls and gave them funny names like big mister, chubby and wiseguy… I liked them so much, I had to use them for a repeating pattern.  Here's a little peek of the pattern as I play around, but not done yet. What do you think?