Summer is officially here and lazy, hot, and humid afternoons are perfect for a bit of scrapbooking! The two men in my life (hubby and furbaby) are usually napping, so I get to sneak my creative time in. Oddly enough, I'm not a napper at all! I usually end up more tired and groggy, so much prefer to do something instead. So I designed some happy flags and banners – printing out the designs and assembling them into a garland banner and various little flag embellishments.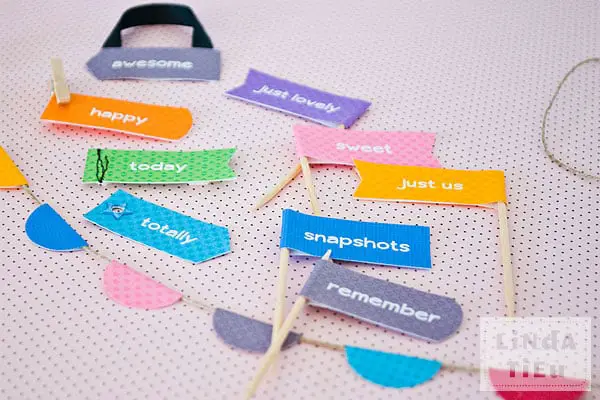 You can dress up your banners and tags with a bit of sewing, ribbon, toothpicks, or eyelets. A little detail definitely goes a long way. These types of embellishments are so easy to make and you can use whatever patterned paper or materials you have in your stash. I find that mixing and matching different papers actually results in a pretty cool eclectic look. This time around, I decided to match up these happy colors in a layout about Vash. Isn't he adorable?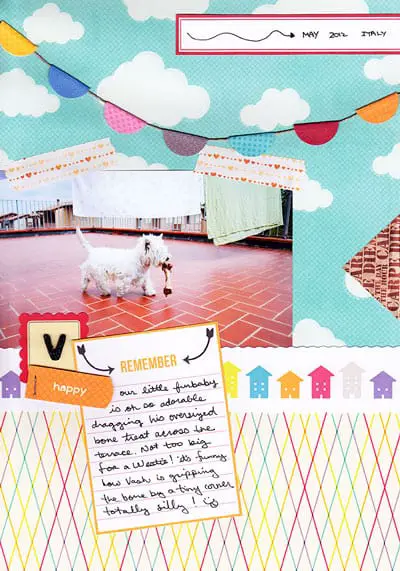 Besides using bits and pieces from my stash I also printed digital designs. I think my favorite part is the "happy" orange flag banner… it's so simple, but makes me smile every time. Hope you had a lovely weekend and scrapped a bit of fun! Ciao ciao!