There is a vitality, a life force, an energy, a quickening that is translated through you into action, and because there is only one of you in all of time, this expression is unique. And if you block it, it will never exist through any other medium, and be lost. The world will not have it.

It is not your business to determine how good it is, nor how valuable, nor how it compares with other expressions. It is your business to keep it yours, clearly and directly, to keep the channel open.

You do not even have to believe in yourself or your work. You have to keep open and aware directly to the urge that motivates you.

Keep the channel open.

-Martha Graham
Doesn't that just say all the right things, especially for creative folks like us?
I was introduced to this wonderful quote by Martha Graham after watching Marie Forleo's video this week. I was instantly inspired and had to share. It simply makes me feel great about letting whatever creativity that flows out of me… out! No more judgements or second guessing, hesitations or self-criticism or paralysis.
Amazing how eureka moments just appear out of nowhere. I love it! Wishing you a happy week!
Posted by
LTieu
on Jan 17th, 2015 in
art and craft
|
2 comments
Is that a long enough title for you? Well, it's warranted because the point is to consolidate and make one thing serve multiple purposes. When we have limited time, we have to optimize, right?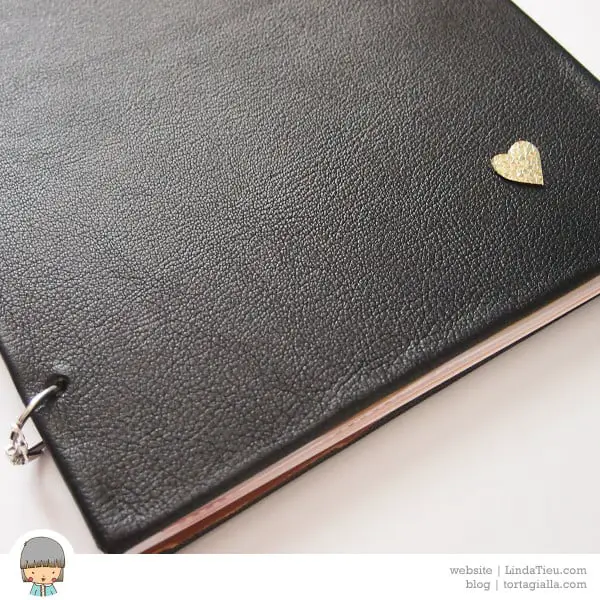 Planners seem to be the trendy hot thing these days and there are many beautiful ones out in the market. I decided to go DIY and make myself a custom planner, tailored to my purposes. It'll allow me to get creative, while serving my own specific needs. I used black leather for the outside cover and just wrapped around some chipboard. The inside of the covers are lined with a brown leather and it's all held together with some little book rings.
I designed my own monthly calendar pages and decided to get crafty and decorate with all the pretty scrapbooking papers in my stash. It's time to actually use my supplies rather than hoard them!
Since I use a digital calendar for actual appointment keeping (way easier to maintain, share and edit) – this paper version is really for memory keeping reasons. It's about capturing glimpses of my daily life – something to be kept even after the year is finished.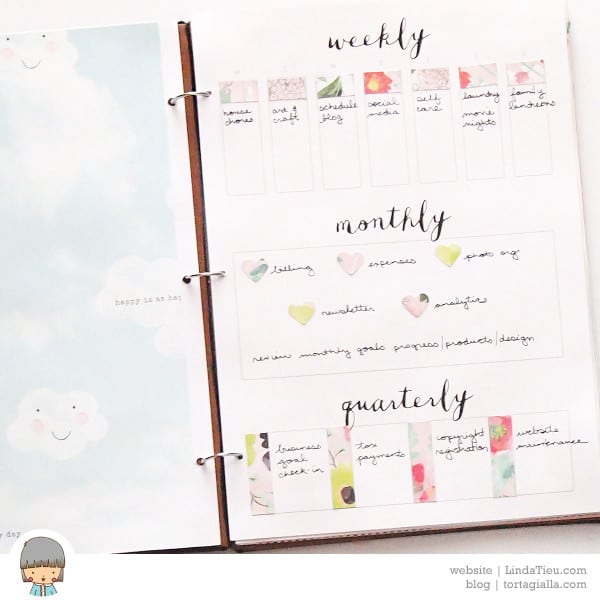 Obviously, I don't have everything worked out yet, as I'm not sure how to combine my daily routine notes with scrapbooking with art journaling and whatever else goes through my mind. It'll definitely evolve along the way, which I think is natural.
Do you use a paper planner or journal? What do you use it for and what do you include or exclude?
Posted by
LTieu
on Jan 10th, 2015 in
scrapbooking
|
0 comments
You might have noticed a while back, I consolidated my scrapbook blog BackToPaper into this one. It's all about simplification these days. However, I've been dormant online, busy with mommy duties and just now trying to revamp in 2015.
You can tell I have grand plans this year for every facet of my life – planning, planning, planning. I'm a huge fan of Studio Calico and can't wait to receive my monthly PL kit. Hopefully I'm not delusional in thinking that spending money on supplies is somewhat of a commitment and thus motivation to get scrapping.
While I wait for my box to arrive (it might take some time because I live in the Italian countryside and postal service is sort of horrendous) I've decided to do some clean-up and organization.
Talk about a crazy amount of supplies and paper, even though I've been out of it for the past year. I already have bags and bags of paper recycling to take out and at some point need to offload the books and magazines I've collected over time – maybe someone else will find inspiration from them?
More importantly though, I'm going through my binders of layouts and really trying to re-evaluate why I scrapbook and how I want to move forward in 2015.
We all document for different reasons. It's not always about legacy, it might just be a creative outlet or maybe a combination of both. But there are definitely a lot of choices to make when it comes to what we document, because we all have limited time.
As I look at my old layouts, there are some that I love and others that are just… meh! I'm realizing that in the past, sometimes I've scrapped just because I thought I had to use that photo, even if there wasn't a big story behind it. It's not a long lasting kind of documentation – it just doesn't do it for me personally.
More and more I'm realizing I need a combination to satisfy my needs. I like documenting the everyday things, but it seems a bit much to do a whole layout for a funny little thing my boy might do that day or an especially yummy luncheon we might have. So the idea of Project Life (as always) intrigues me, but I know for certain that I can't commit. I'm always short on time, so I just can't see myself doing the standard spreads regularly.
Somehow I need to figure out a hybrid of journaling and PL-esque system, along with occasional layouts for bigger stories. I suppose that is what many people are doing these days, but it sort of just dawned on me in 2015 – a new start after all. I figure there's no better time to start than right now.
I hope it's not too boring for me to share my expat Italian life and just everyday, trying to be a good mom and still be me at the same time… kind of life, here on the blog. Onward and forward with this scrapbooking hobby I so love. Wish me luck!
Happy 2015!
I had the unfortunate experience of coming down with a high fever on New Years Eve… shucks! All my celebratory plans were ruined, although I did hear the happy hubbub while resting in bed. Despite the rough start, I'm determined to make 2015 an amazing year. I'll have it no other way. Demanding, huh?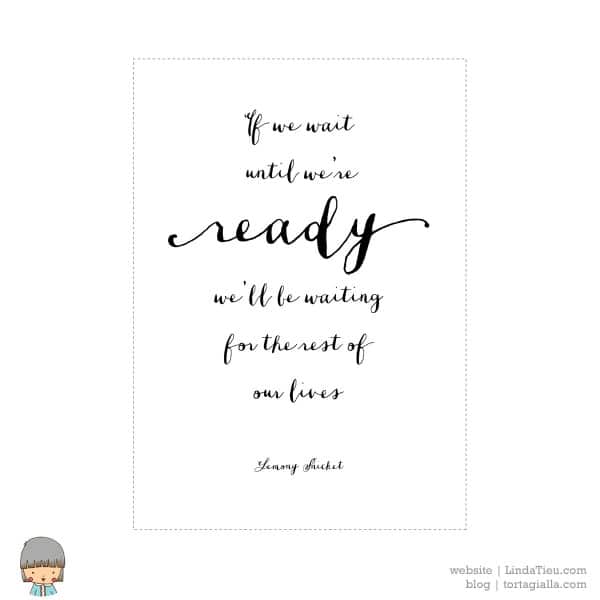 Often I like to have a mantra of sorts for the year… something like a cover page for my planner or a poster tacked up on the wall to cheer me onward. In reflecting on my past experiences, I realized that I often stall on many ideas thinking I'm not ready. It's not the right time or I still need this or that - excuses… excuses… excuses…
Well, enough is enough. Phooey to all that. I came across this quote and decided to make it the cover page for my planner.
"If we wait until we're ready, we'll be waiting for the rest of our lives." -Lemony Snicket
Such wisdom in a little sentence and oh so true for so many of us, I think. We hesitate and wait around, stopping ourselves from greatness. I don't think we have ever feel fully ready for anything. It's just not the way life goes. That scary, butterflies-in-your-stomach feeling shouldn't stop you from chasing your dreams, right?
That's what I think and I'm using the quote to help me forge onward. If you would like to print out the quote for yourself, feel free to do so by downloading the PDF here. Hope it helps you out this year!
Posted by
LTieu
on Jan 1st, 2015 in
art and craft
|
0 comments

Happy New Year! It's January 2015!
This is the monthly blog parade link-up so we can check-in every month to share the work we have been creating. Every step forward, no matter how small counts! Blog about your latest and greatest and share the DIRECT link to your blog post below. Do you have grand plan sfor 2015? Have you started on those plans already?
On social media feel free to use hashtag #bplinkup
Can't wait to see what you have been up to!
Posted by
LTieu
on Dec 30th, 2014 in
art and craft
|
0 comments
Recently, the lovely Kate Leonard (amazing artist!) asked if I would like to be a part of a blog hop she participated in and I immediately said yes. It's the perfect opportunity for me to jump back into blogging!
What I'm Working On…
At the moment, I'm basically in preparation for 2015. I've been on hiatus for a long time and finally I'm all for jumping back in full force. My first step is to get organized, so I'm creating my 2015 planner right now. I've always been into planners, journals and organization – it's just fun! Otherwise, my craft is a huge mix of drawing, painting, bookbinding and designing.
Why Do I Create?
This is something always hard to explain and it might sound mundane, but I simply have an urge to create. There's something magically about making something, with whatever tools and ideas you have… it's amazing and satisfying. Over the years, I've realized that is always what it comes down to – that core feeling of just wanting to do it because it feels right. There need not be any other reason.
How Does My Creative Process Work?
Sometimes I'm inspired by something I see, sometimes ideas just pop up in my random journaling and doodling. I would consider myself pretty freeform. I follow whatever sparks my interest to begin with, but to follow through I like to have some kind of game plan and end goal in mind. It's the project manager in me!
How Does My Work Differ From Others?
I feel that we are all unique and no matter how hard we might try to mimic others, our personal work will always have our fingerprint on it… there's just no denying your true self! I would describe my style as sort of cute, but not necessarily childish. I don't know if there's a word for it, but that is what I'm shooting for, because it would be a true reflection of who I really am. The way I draw by hand is unique to me and it's something I've always been proud of… even with no formal art training. I hope to experiment and try new projects this coming year to see how my style permeates across all different mediums.
It's amazing how answering these questions really have helped me orient myself for 2015 in general. I would invite all of you to blog on the same topics if you are interested – it's a great way to start the new year. Here's to an amazing 2015 together!