Welcome, welcome to the start of my A-Z art journaling adventure! I posted about being accountable to myself and just wanted to do this little project for me personally, giving myself time to play and reflect…because I feel that it's really important to nurture our personal projects – whether a concrete goal or just fanciful thoughts. With everything going on in our busy lives, sometimes it's hard to make time to just creatively play. We all want to do certain things, but consider creative play an extra rather than part of our schedules. I decided to schedule time for my art journaling, because it is important to me and deserves to be a priority. Each weekday I'm going to journal on a topic around a chosen word, as I go through the alphabet A-Z. I like having that bit of structure as well as the beginning and end to this little idea. This will go on through November for Art Every Day Month as well…join me if you'd like to play along! So to begin I spent today making my journal and decorating the cover.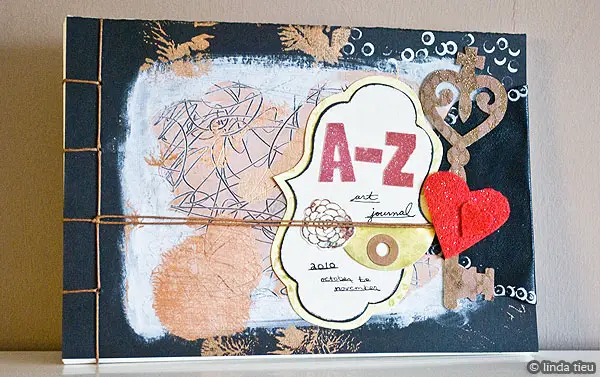 I didn't have anything in mind and just went with my whim for everything. Sometimes we overplan and it's just not as fun anymore…so I really want to get free and go crazy with this project. Go with the flow and just see what happens. I've been trying to organize and clean my space as well, so really trying to use all the bits and bobs I already have rather than buying more supplies. It's so easy to forget that you have something in supply already! So I decide to go with a half-page size journal, not too ambitious to ensure I could finish a page a day.
Taking some watercolor paper I already had lying around, I took it out of the binding and just ripped each sheet in half, enough for the entire alphabet. I actually really like the circle part, so just left that in as part of the paper of my journal. Adds a bit of detail and texture already!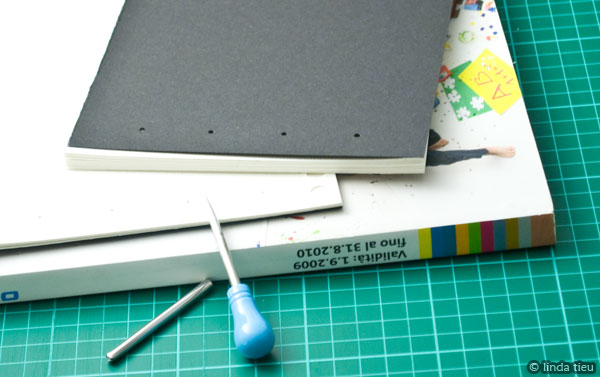 I poked my holes with an awl and just bound it together using the Japanese stab binding technique. You can find a lot of tutorials online and it's super easy. I just sort of wing it…whatever holds it all together.
I ended up with an even number of holes, so the ends of the strings didn't end up in the middle, but instead of trying to hide it on the back, I thought it would be great to incorporate into the cover of my journal. I painted with acrylic paint, scratched all over, added pieces of die-cut leather, felt hearts, paper cutouts and letter stickers for the titling. Just things I had lying around and quite happy with the results. I think sometimes if you just go with the process it'll come out balanced in the end…no worries on perfect composition!
My favorite part is the messy painting and scratching parts. I just love the texture and sort of random natural forms…definitely fun, too! Here are so close-ups so you can see the details and that's it for today. Just made the journal and decorated my cover to start with! Until tomorrow!