Ciao ciao everyone!  This lovely Tuesday I invite you to art journal with me… yup!  Let's start a journal together and really experience the freedom of expression that art journaling can bring. I've been thinking about sharing my art journaling for a while and was really inspired to start this week because I finally received my Art Saves canvas panel in the mail and want to use it for the cover of a new journal.
If you haven't already, be sure to check out crescendoh.com to read all about how Art Saves from the life stories of real-world artists. In fact, I will also be a guest curator in May – sharing my story, art photos and fabulous links to artsy crafty goodness. Previously I never shared my art journaling because it was very personal and not something I wanted others to see. However, the process helped me to turn my focus around and what was once a way to vent and release all the bad things has now become a place for play and happy experimentation. My art journaling is still personal, but much more positive and so I am now ready to share it. I'm taking a fashion catalogue shown above that seriously has really nice sparkly thick paper. It's really perfect as a base for my journal and you'll be surprised what you can find around the house that can become an art journal. Having pages that are NOT blank also helps you beat the blank page fear as well! First thing I like to do is decorate my cover, so here goes…
I sketched out a little happy drawing on watercolor paper first…
Then I slapped on my blue watercolor for the background…
Then coloring in my drawing, one color at a time and letting it dry in between. (I cheated with heat to dry the paper faster!) As you can see, I am not a trained watercolorist at all – I'm really messy because I'm impatient at times, but try my best to color in the lines and just fill in the colors I like.
Even though the watercoloring might be messy, I try to neaten it up by adding black outlining to my drawing…pretty cute, huh? You can see above how I plan to attach everything to the cover of my journal.
I'm not really done with the image yet though…I like to look at it from afar and add details with colored pencils and my latest craze – Copic twinkling like stars pens! Can't resist some sparkly-ness and I guess it's influence from Italy, because a lot of designs and clothing here have that added bling bling.
Above you can see how I went crazy with the sparkly pens and thickening the lines to add definition to the drawing. I couldn't help but add hearts hanging from the top in silver pen too…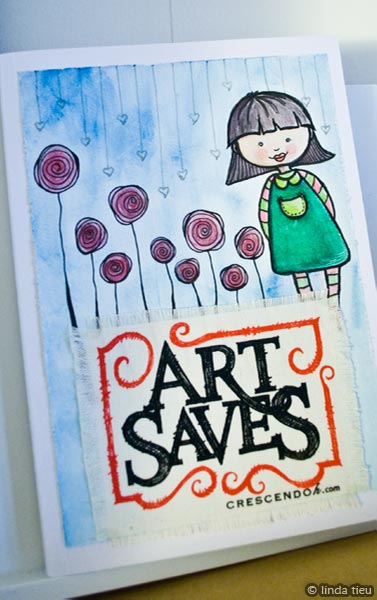 Glue everything down securely and tah-dah!  A finished art journal cover…yay! Now you are going to do yours, right? Or perhaps you already have an art journal and just want to play along with a happy image? Go ahead and share in the comments section as I always like to see what folks come up with. Until next week for another art journal with me post!