Are you ready to get organized and fire up your planner game? Download these FREE blank calendar pages that give you structure but also flexibility.
Each of us leads a very different lifestyle, so we have to customize our calendars and planning styles accordingly. A blank slate will give you flexibility, but still start you off with a barebones structure. That's exactly the kind of thing I like – freedom to do what I want, but some guidance to start with!
Since I love to use printables, I've created a couple sets of printable calendars for the next evolution of my planning. I love how digital printables enable me to constantly tweak my planning layouts. I'm always reviewing my planning habits and changing things, so that I can improve my productivity!
This year, I've come up with a new set of perpetual blank calendars to cater to my planning needs. They are all Monday start layouts, because I find that it make more sense with my schedule, grouping the weekend together for weekly and monthly views. Otherwise, they are blank so that I can fill in the details as I need and decorate (or not decorate) as I please.
This set of perpetual blank calendar pages includes:
DAILY PAGE
All 24 hours are noted, because I like to visually see the entire day and be able to track things, don't forget sleep is important!
WEEKLY PAGE
There's a box for every single day and habit tracker area plus notes list
MONTHLY CALENDAR
Includes enough rows to give each day it's own box (I dislike squishing two days in one box at the end of the month on other calendar layouts)
YEARLY PAGE
It's a year-long list format, so you can see the whole year at a glance and list birthdays or track habits. It's also great for overview planning, blocking off with colored pens and highlighters.
This printable set includes both portrait as well as landscape layouts, so download your preference!
You can download ALL these printables for FREE and for personal use only. Yup, I'm offering them up for you in hopes that they might help you get organized and plan for success!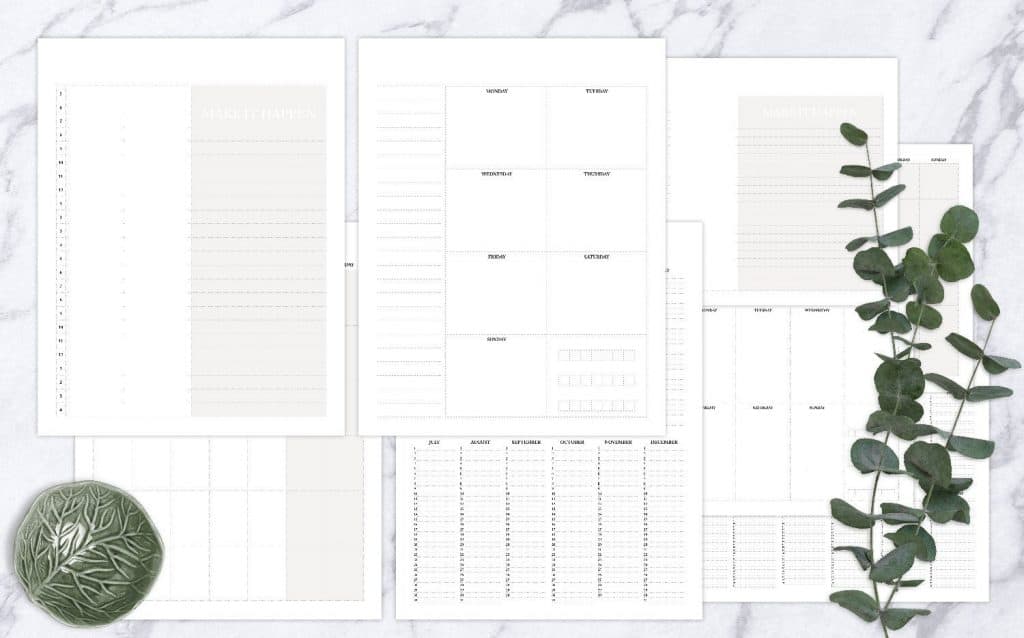 Perpetual-Calendar-Printable-Landscape
Perpetual-Calendar-Printable-Portrait
The great thing about printables is that you can use them over and over again, print however many you need and even restart if you make a mess of a page. No worries! It's super flexible and affordable!
For the Love of Digital Printables…
I have a Facebook group called i heart printables and always post freebie printables links and would love to hear your ideas there. You can also keep updated with my design releases and printables – Sign-up for my email newsletter here.