Another TGIF! Both my husband and I feel super tired after this week. No idea why as it was not any more eventful than normally, I believe. I've been having headaches perhaps from too much concentrated computer screen time, although I'm always in front of the computer…what's different about this week? I thought it would be nice to share a peek at my little space in the corner of our bedroom. I have practically taken over all the space!
Do you like my hot pink crocs? Actually, the more glaring issue is probably ergonomics of my workstation, but we already have an IKEA plan to redo the room, so I'm just waiting patiently for the re-org. Otherwise, I do feel a bit blah these past few days. I'm just looking forward to the weekend and passed some time doing a bit of sketching…random woman again. I actually like the little blob in the upper left hand corner the most!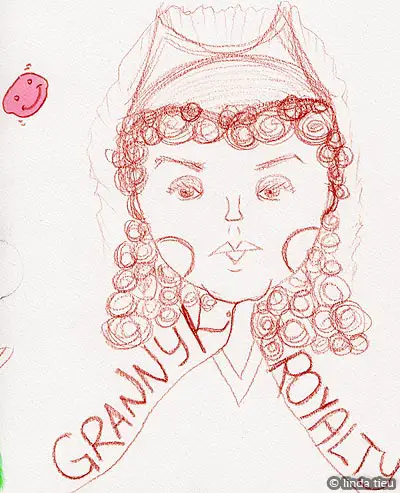 No ponderings or deep musings for discussion this Friday…nothing except that getting a daily email of encouraging words really helps, especially when we have such busy lives bouncing from one thing to another. Have you heard of the Daily Truths from the Brave Girls Club? I don't know much about the retreat since I've never been, but I subscribe to their daily truths list, a daily email with words of wisdom. It's a paragraph or two of great writing that makes my day start out positive. It's definitely a good email to find in my inbox, so with that I bid you a happy weekend. Ciao ciao lovelies!