It's easy to find inspiration in art and craft blogs daily or seemingly constantly these days.  I often get sucked into browsing site after site, lost in a frenzy of ideas.  Probably doesn't help that I have a million feeds in my Google RSS reader!  Although people are amazingly generous to share their work, thoughts and techniques (for that I am so grateful) it can also be information overload at times.  I find it calming to turn to my classic art history books to learn from the masters every once in a while.  Maybe it's being off the computer or maybe it's the whole story that can be so intriguing and different, inspiration-wise.  With contemporary artists you are following their journey nearly in real-time.  With those from the past, you have the journey already complete before you and a lot of analysis has already been explored to reflect upon. Henri Matisse is considered one of the best artists of the 20th century and the more I have learned about him, the more I am driven and inspired to create.
Young Woman with Parasol, 1905, via Web Museum of Fine Art
Many of us have heard and seen bits of Matisse's work either in school, a museum or a TV program .  However, it's immensely interesting to explore the life of an artist and the entire progression of his work.  Matisse is famous for his paintings, but he was also a master at drawing, worked in printmaking and even sculpture.  It's hard to believe that even though his paintings sell for millions today, he actually didn't have a solo exhibition until the age of 35, which was not a success either!  The greatness of the legacy makes me forget that every artist started as a student.  They went through many different trials…probably comparable to what we go through today as an artist trying to make it in this world.  Matisse's Fauvist movement paintings were so controversial, he had trouble providing for his family with all the criticism.  Can you imagine that?  Matisse had troubles?  Oh, I should probably mention that Picasso was one of his best friends.  Just stop and wonder, perhaps one of your friends might be the next Picasso?

The Blue Dress Reflected in the Mirror, 1937, via Web Museum of Fine Art
I am personally attracted to a large body of Matisse's work because of the bold and bright colors he used.  Many also call him a master colorist!  He emphasized the subjects with bold lines and expressive strokes rather than going for all the detail.  He went through many different periods and styles of work, but I also find the collage work in his later years of life to be fascinating.  Who said collaging is not a fine art?  He called it "painting with scissors" as he was too weak to stand at the easel in older age.  It's also interesting to note that although Matisse lived during a very politically turbulent time in history, his work shows no trace of opinion or conflict.  Perhaps in his art he sought for the opposite…balance, comfort and refuge from a violent world.   All to allow the viewer comfort  in getting lost amongst the colors, shapes and harmony of the works.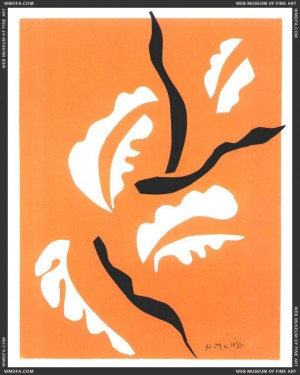 The Acrobat Dancer, 1949, via Web Museum of Fine Art
If you don't have any books on Matisse check out the artst.org gallery of his work and get inspired.  Coincidentally, there's also a great post about collage trends and inspiration on Smashing Magazine. Oh the planets sometimes align for us all, right?  I think I'm going to do some collaging now…ciao!