Can you imagine a blanket of white snow gracing the Tuscan countryside?  That's the view I've been privelged to witness this whole weekend as it snowed in many parts of Italy where normally it would never snow and actually stick!  It's been super fun having a winter wonderland to play in, but now it's a cold Monday morning and time to get back to work.  The weather has certainly caused trouble for many trying to commute to the workplace.  I feel so lucky to be able to work from home, especially since I always take Mondays to collect myself, organize and fill my mind with inspiration for the week.  Today, I'm snuggling up with a warm cup of coffee and the beautiful works of Lena Corwin.

via Lena's Flickr
Lena Corwin is a pattern designer and illustrator living in Brooklyn, New York and I first encountered her work when I purchased her book, Printing by Hand: A Modern Guide to Printing with Handmade Stamps, Stencils, and Silk Screens (affiliate link to Amazon).  I love how the book starts from zero, explaining the how-tos and whys.  Even though I might have dabbled in some of the techniques, it really helps to start from the basic foundation.  I like it so much that I purchased another copy to give to a friend this Christmas!  I've read through the book a few times, but still have to get through all the projects in a practical sense – she presents a project for each technique including patterns if you want to use her designs.  I totally love all her design work and I started following Lena's blog as well.  From there I found that she not only creates wonderful patterns in her textile work, but also print items and works in various other mediums.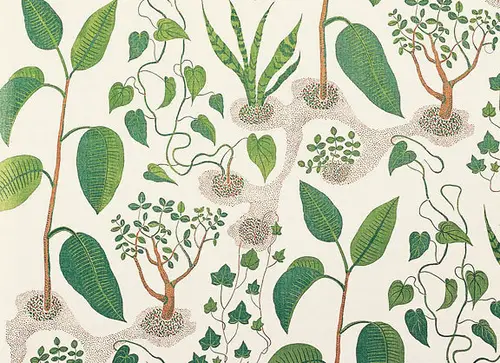 via Lena's Flickr
I love her sense of style and the feeling her work invokes.  To me her designs exude that organic natural feeling as well as homey comfort that I love, yet the professional finish goes hand in hand as well.  I always aspire to create handmade and art from the heart, but also strive for that professional finish and quality.  You can check out Lena's shop for a sampling of the beautiful products she creates.

via Lena's Flickr
As if that is not enough, Lena also works to curate a book/zine called Lines & Shapes.  It's all about connecting with other artists, sort of a showcase of art and design.  It's so fascinating to see how her work spans across so many mediums and it's very inspiring to me especially because I love so many different facets of the creative life and can't see myself focusing only on one aspect.  To see other succeed in multiple avenues, makes me feel less scattered and gives me hope that a jill-of-all-trades isn't necessarily a bad thing.  Isn't it all so very exciting and wonderful?  I hope you can soak in the inspiration and have a fabulous holiday season as well.  Today is official the first day of winter after all!