Happy Wednesday to everyone! Today I decided to get hands-on and carve some rubber stamps. It can seem like an intimidating process, but it's not too difficult to create your own little designs for printing and there is always great satisfaction in creating something personal by hand. You can carve into everyday items like rubber erasers, art gum or even corks! I happened to have linoleum blocks lying around and started making a quote journaling stamp for a scrapbook page. I decided to finish the job and carve another stamp to test out printing.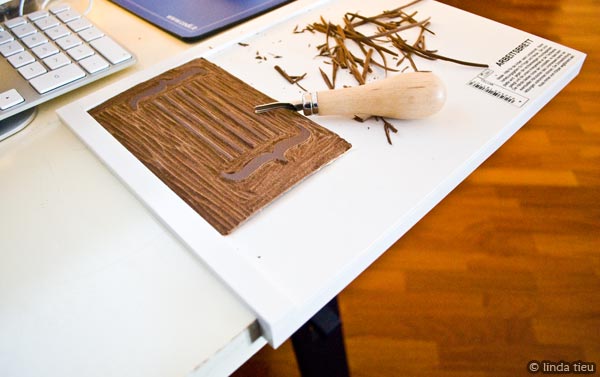 I use a little table jig thingy when carving that allows you to apply pressure into what you are carving without the work slipping away – not sure what you call that. I think I'm pretty heavy handed anyway, because I've chipped off pieces of that white plastic thingy and certainly have had my share of slight injuries! I have to tell myself to slow down all the time, so be careful with whatever tools you are using.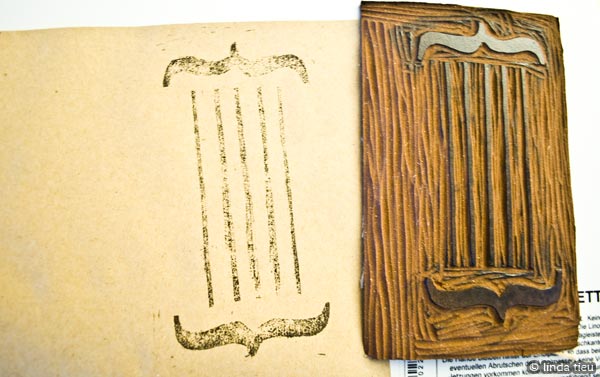 After finishing up the quote journaling stamp I decide to carve another one with words.  I printed out the word "smile!" on the computer first, so then it was easy to trace and transfer with pencil onto the block backwards. Remember you have to carve the mirror image of things! My little happy sun design turned out to be really detailed and a lot harder for me to carve out – what a challenge!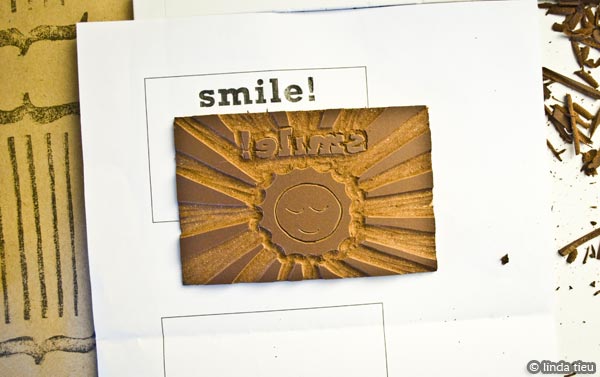 I didn't have the tools (or maybe the patience) to get all those little parts of the letters and I also accidentally took off the dot above the letter "i" and the dot below the exclamation point as well. I decided it was okay, because I would add little hearts with a gel pen in their places instead.  Don't forget that you can always work with your mistakes.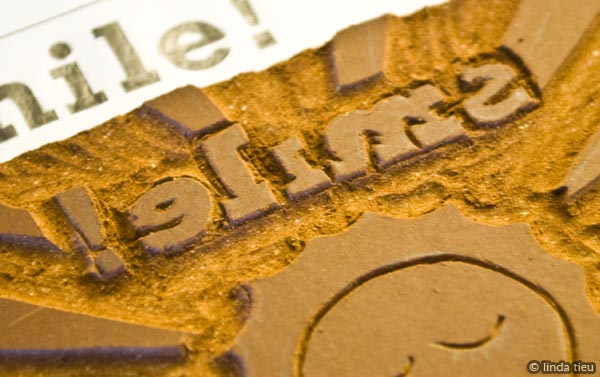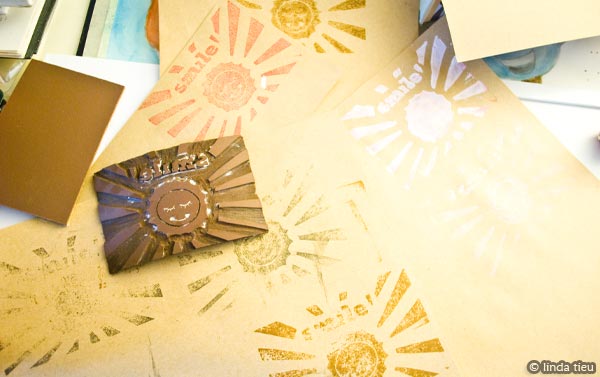 In the end you have to go through a process of inking up your work and trying it out to see if you need to fix any parts or clear out certain areas.  I like the grungy look of a hand-carved stamp and sometimes keep it very loose on purpose.  Stamping with rubber stamp type inks worked okay, but wetting a bit of distress ink was nice also.  I tried to use some paint but it was a bit too thick, so I think the trick is finding the right consistency for whatever you use to stamp. I ended up with a bunch of random stamping all over to test colors and consistencies. Either way it was fun to think of an image, get it carved out and then printed…so satisfying! I hope you will give carving a try as well…even if it's just a little heart to stamp on the outside of your envelopes – that would make cute mail art 🙂 I think I'm going to do that now with a cork!