Like many other artists and crafters, January is typically a time for organizing and planning.  After the hustle and bustle of the holiday season, we can finally settle down and get focused for the upcoming year!  I usually start my new year with making a few art journals to use and a yearly planner to help me keep focused on future tasks and goals.  Writing out your thoughts, goals and tasks not only helps you to remember them later, but I think the act of writing helps to reinforce the idea in your mind as well.  This year I decided to design some planner pages that I could print out at home and quickly bind together.  I'm currently really loving the teal and gray color palette, however I like to leave lots of white space for doodling and coloring as well.
I think these planner pages are versatile enough for everyone and great for printing out to incorporate in your bujo and planners… if you don't want to redraw boxes or want something reoccurring.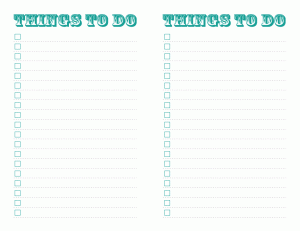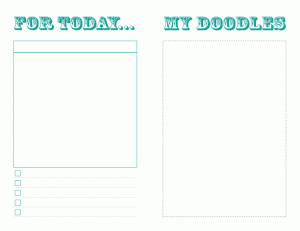 Feel free to download the graphics above (click to get large versions) to print for your own personal planner this year.
I created things to do list – always handy – as well as the weekly and daily planner pages.  I took the easy route and just printed various combinations of the pages front and back on regular paper, then folded them all in half to make a simple booklet planner.  You can also cut the pages in half and bind the pages in various combinations to suit your specific planning needs.  I'm going to save more complicated binding techniques for an art journal I'm working on…I'll show that tomorrow.  Enjoy!
If you like my design printables be sure to sign up for my weekly newsletter for more freebies and the latest updates!