Looking for some free printable Valentines? Check out this funny illustration – my heart beats for you!
As the days draw nearer to Valentine's day, I have been thinking a lot regarding love-themed designs.  I started sketching out some ideas and first came up with a bunch of medical themed, geeky sentiments. Something like "gimme a shot of love" for medical folks. Yes, I'm easily amused! Working on some other themes as well but I thought today would be a good opportunity to offer a freebie card in the same vein (OMG, I did it again!)
I present you with  "my heart beats for you" – literally! Download the free printable valentines below, just click the image for the full-size version.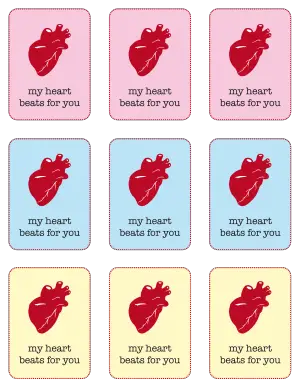 Hope you like it! Enjoy!
If you like my design printables be sure to sign up for my weekly newsletter for more freebies and the latest updates!