Looking for some free printable Valentines? Check out this funny illustration – my heart beats for you!
As the days draw nearer to Valentine's day, I have been thinking a lot regarding love themed designs.  I started sketching out some ideas and first came up with a bunch of medical themed, sort of geeky sentiments for greeting cards!  I decided to whip up some printable valentines for my Etsy shop – medical, foodie and old school themes. Funny sentiments like "gimme a shot of love" for medical folks…gosh, I'm nerdy, huh?!  Working on some other themes as well but I thought today would be a good opportunity to offer a freebie card in the same theme.
I present you with  "my heart beats for you" – I know, another geeky sentiment…hehe.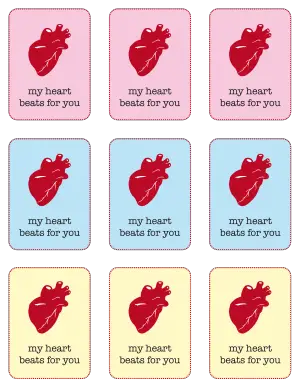 Hope you like it, just click on the image below to download the large PNG file. Enjoy!
If you like my design printables be sure to sign up for my weekly newsletter for more freebies and the latest updates!
And for more Valentines, you can find medical, foodie and old school themed Valentines like this one in my Etsy shop!